Posted: Nov 11, 2013 6:00 AM
This Thanksgiving stuffing marries the flavors of fall perfectly. Apples and fresh herbs infuse tender bread and wild rice with comforting flavors, making this a dish that you will be proud to serve alongside your holiday turkey.
Thanksgiving is just around the corner, and everyone is hustling and bustling to put together their holiday menus. While the Thanksgiving turkey is always the show-stopper, it's the side dishes, such as a really good stuffing, that make most people lick their lips in anticipation. Line your table with mashed potatoes, green beans and an easy turkey gravy, and your guests will shortly be wearing contented faces that come only with feasting on great food.
While many feasters appreciate a traditional bread stuffing, a wild rice version, with sweet apples, fresh herbs and nuts can be a welcome change. As with many stuffings, this can be assembled ahead of time, then baked right before serving.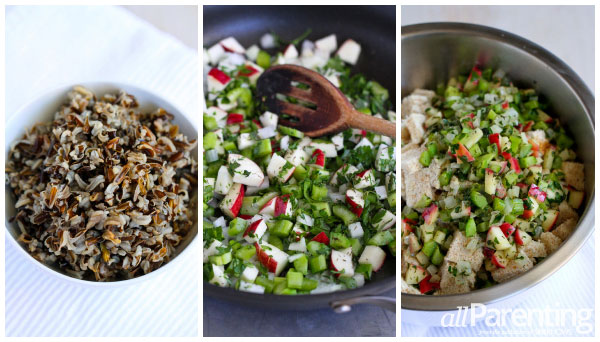 Wild rice, apple and herb stuffing
Serves 8
Ingredients:
1 cup wild rice
4 cups water
6 cups wheat bread
1 tablespoon olive oil
1 tablespoon unsalted butter
2/3 cup chopped celery
1 Gala apple, cored and chopped
1/2 medium yellow onion, chopped
2 tablespoons minced fresh sage
2 tablespoons minced fresh thyme
1/3 cup chopped Italian parsley
1/4 teaspoon ground nutmeg
1/2 cup chopped pecans
1/4 teaspoon salt
1/4 teaspoon pepper
1-1/4 cups low-sodium chicken (or turkey) broth
Directions:
Combine the wild rice and water in a medium saucepan set over high heat. Bring to a boil, then lower the heat, cover and simmer the rice until most of the grains are split and tender, 55 to 60 minutes. Drain the rice and transfer to a large bowl.
Preheat the oven to 350 degrees F.
Add the bread pieces to the rice.
Heat the olive oil and butter in a large skillet set over medium heat, until the butter is melted. Add the celery, apple, onion, sage, thyme, parsley and ground nutmeg. Cook, stirring frequently, until the celery, apple and onion are soft, about 5 minutes.
Add the celery and apple mixture, along with the pecans, to the bread and toss to combine. Season with salt and pepper. Pour in the chicken broth and toss again.
Lightly coat a 13 x 9-inch baking dish with cooking spray or butter. Transfer the stuffing to the baking dish and bake until the stuffing is heated through and a light crust forms on top, about 20 minutes.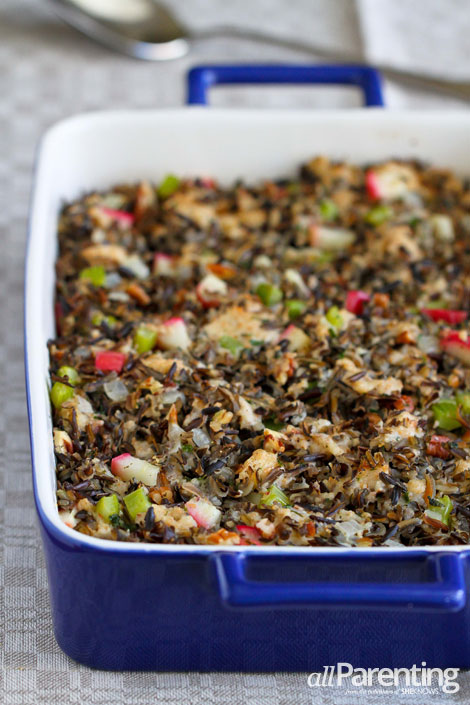 Hungry? Scroll through our delicious recipes!