Posted: Nov 25, 2013 6:00 AM
There is nothing like curling up in front of a roaring fire with a cup of hot soup. This butternut squash soup, topped with spiced pepitas, will warm you right down to your toes.
Butternut squash soup is like the poster child of food for the fall season. Every cook needs a good recipe in their repertoire and, luckily, this soup is one of the easiest to prepare, while also being chockfull of vitamins. To make the process even easier, purchase cubed butternut squash from the grocery store.
Once the sweet butternut squash is tender, puree it along with the other vegetables and the broth to form a thick, rich soup. This can be done with an immersion blender, or a regular blender or food processor. Be certain to let the soup cool for 10 to 15 minutes before pureeing to avoid burning yourself or blowing the top off of the blender.
While the soup is fantastic on its own, it can be fun and festive to add a crunch of spiced pepitas on top. Pepitas (pumpkin seeds) can be found in the bulk food section of most supermarkets.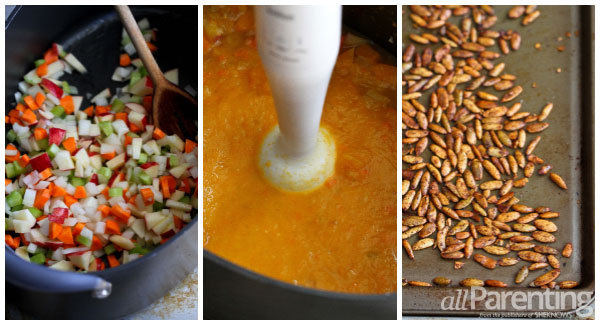 Creamy butternut squash soup with spiced pepitas
Serves 4 to 6
Ingredients:
The soup:
2 teaspoons olive oil
1 medium yellow onion, chopped
1 medium Gala apple, cored and chopped
1 carrot, diced
1 celery stalk, diced
2 cloves garlic, minced
3/4 teaspoon ground cumin
5 cups cubed butternut squash (about 2-1/4 pounds)
5 cups vegetable broth
1/2 teaspoon salt
1/2 teaspoon ground pepper
3 tablespoons minced cilantro
The pepitas:
1/3 cup pepitas

1/2 teaspoon olive oil

1/4 teaspoon paprika

1/4 teaspoon ground cumin

1/4 teaspoon salt
Directions:
The soup:
Heat the olive oil in a large saucepan set over medium heat.

Add the onion, apple, carrot and celery to the saucepan and cook until the vegetables are starting to soften, about 5 minutes.

Add the garlic and cumin, and cook for an additional 30 seconds.

Stir in the butternut squash and broth. Bring to a boil over high heat, then reduce heat and simmer until the butternut squash is tender, about 30 minutes.

Let the mixture cool for about 10 minutes. Using an immersion blender, a regular blender or a food processor, puree the soup until it is smooth. Serve. Garnish each helping with spiced pepitas and cilantro.
The pepitas:
Preheat the oven to 375 degrees F.

In a small bowl, toss the pepitas, olive oil, paprika, cumin and salt. Spread the coated pepitas on a baking sheet.

Bake until the pepitas are golden brown, about 5 minutes, stirring once. Watch carefully so the pepitas do not burn.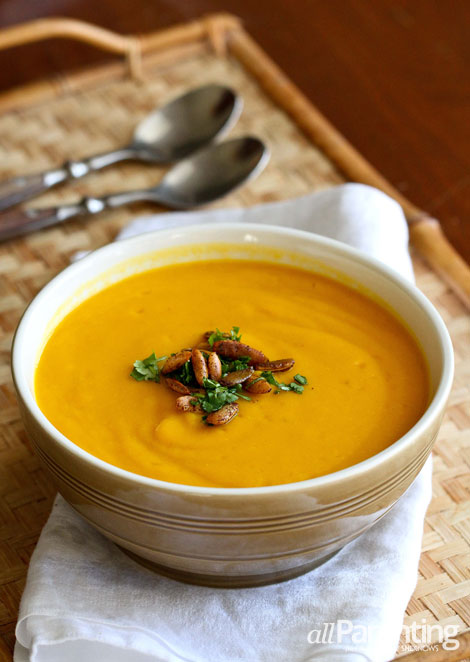 Hungry? Scroll through our delicious recipes!