Posted: Dec 06, 2013 9:00 AM
If you haven't tried salted caramel vodka, you're missing out. It's the perfect balance of sweet and salty mixed with booze to excite the taste buds. Grab a bottle today and test it out in this salted caramel hot chocolate cocktail. We have no doubt you'll love it as much as we do!
While salted caramel vodka isn't exactly new in the marketplace, it is gaining in popularity as more brands are releasing their own versions. A mixture of buttery caramel with hints of salt, it's a great addition to a mug of steaming hot chocolate. But don't take our word for it. Try it yourself in this salted caramel hot chocolate cocktail.
Now, for the brand of salted caramel vodka we like, try Pinnacle and Effen. Pinnacle's version is sweeter and lower in price while Effen's is made from natural ingredients, has a slighter stronger booze taste and is higher up on the price scale. Both were taste tested in this drink and given two thumbs up.
Salted caramel hot chocolate cocktail
Serves 1
Ingredients:
2 ounces salted caramel vodka
4 ounces milk of your choice
2 tablespoons premium ground chocolate (also referred to as baking cocoa)
Homemade whipped cream for garnish, if desired
Directions:
Pour the milk into a small saucepan over medium heat.
Add the ground chocolate, stirring frequently to combine.
While the hot chocolate is heating on the stove, add the salted caramel vodka to an Irish coffee mug.
Once the hot chocolate reaches the desired temperature, pour it into the Irish coffee mug.
If desired, top with whipped cream and enjoy!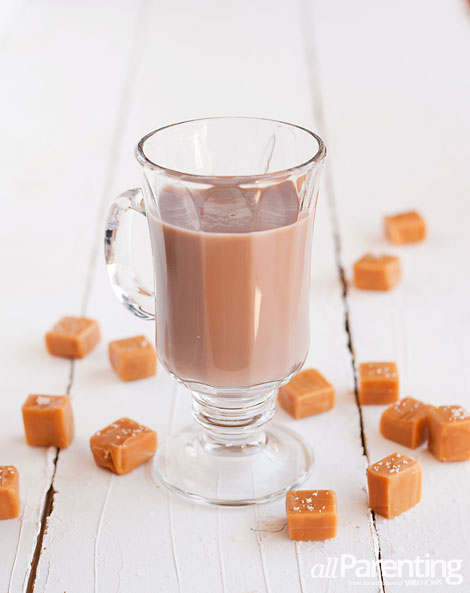 Cheers! We have lots of cocktail recipes!