Posted: Dec 05, 2013 6:00 AM
Everyone will love a hearty yet healthy lasagna during the week. Filled with healthy spinach and lean turkey sausage, you won't feel guilty having seconds! Use no-boil lasagna noodles for added ease!
Big on flavor but not on calories, your whole family will love this healthy lasagna. Making your own light cream sauce is super easy and much healthier than buying a white cream jarred sauce at the store. Spicy Italian turkey sausage adds so much depth and flavor to the dish and the baby spinach adds that healthy greenness! And what's not to love about no-boil lasagna noodles! Talk about an easy time saver, perfect for a weeknight dinner!
Turkey sausage and spinach lasagna
Serves 6
Ingredients:
1/4 cup flour
1 cup low-fat milk
1 cup chicken stock
1 tablespoon vegetable oil
1 bay leaf
1/4 teaspoon Kosher salt
1/2 teaspoon freshly ground pepper
1 pound (about 5 links) spicy Italian turkey sausages, removed from casings
1/2 cup shallots, finely chopped
3 garlic cloves, minced
12 ounces fresh baby spinach
9 no-boil lasagna noodles
1-1/2 cups part-skim or skim ricotta cheese
1-1/2 cups part-skim mozzarella cheese, shredded
1/2 cup fresh Parmesan cheese
Directions:
Preheat oven to 375 degrees F.
In a saucepan over medium heat, combine flour, milk, chicken stock, vegetable oil and bay leaf. Stirring with a whisk frequently, cook 8 to 10 minutes or until thick and bubbly.
Remove sauce from heat and add salt and pepper. Remove bay leaf. Spread 1/2 cup sauce in bottom of 4-quart glass or ceramic baking dish. Set aside.
Heat a large skillet over medium-high heat. Add sausage to pan and cook for 6 to 8 minutes, or until browned. Add shallots and garlic and cook for 2 minutes. Add baby spinach and cook until wilted. Add remaining sauce mixture. Stir to combine and remove pan from heat.
Arrange 3 lasagna noodles over sauce in baking dish. Top with 1/2 cup ricotta cheese then spinach and sausage mixture followed by 1/2 cup mozzarella cheese. Repeat layers twice.
Sprinkle with remaining 1/2 cup mozzarella cheese and Parmesan cheese.
Cover lasagna with foil and bake for 45 minutes.
Remove foil and brown top of lasagna for 5 minutes.
Let stand for 10 to 15 minutes.
Serve and enjoy!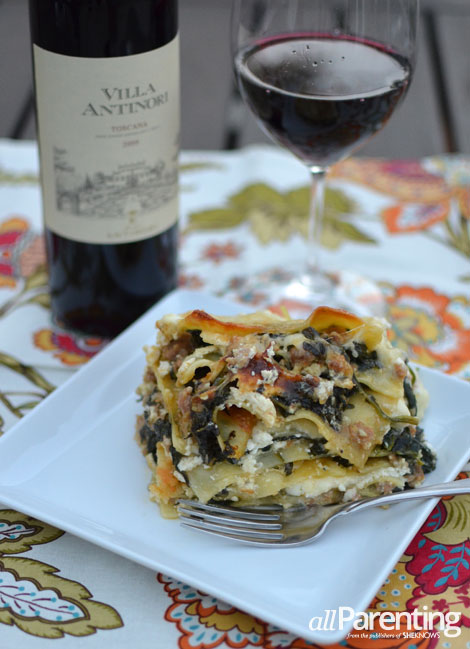 Hungry? Scroll through our delicious recipes!