Posted: Dec 02, 2013 6:00 AM
An easy make-ahead breakfast casserole is what every host needs during the holidays. Hearty bread is soaked overnight in a cinnamon and egg mixture, then baked in the morning. Serve with fresh fruit and maple syrup for a warm, satisfying breakfast.
With the happy chaos of the holidays and a house full of guests, every good host needs a go-to breakfast casserole recipe that will feed a hungry crowd of holiday revelers. The beauty of this recipe is that it can be almost completely prepared the day before serving. In the morning, remove the egg and cinnamon-soaked casserole from the refrigerator and sprinkle it with a brown sugar and pecan streusel before baking.
Any dense, crusty bread will do for this recipe. Challah or a hearty French bread works nicely. In this version, I used a cinnamon-pecan bread that added extra flavor to the casserole. Serve the baked French toast with warm maple syrup and sliced bananas. Now that is the way to put a little "jolly" into the holiday festivities.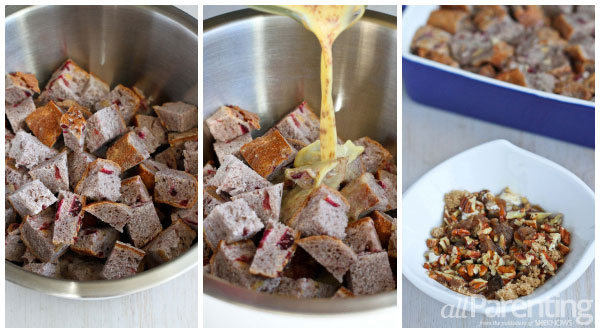 Overnight cinnamon French toast casserole
Serves 8
Ingredients:
Casserole:
1 pound crusty or flavored bread (such as cinnamon pecan), cut into 1-inch cubes
6 eggs
1 cup orange juice
1-3/4 cups 2 percent milk
1-1/4 teaspoons ground cinnamon
1/2 teaspoon ground nutmeg
Streusel:
6 tablespoons (packed) brown sugar
1/4 cup butter, melted
1/2 cup chopped pecans
Directions:
Casserole:
Preheat the oven to 350 degrees F. Coat a 9 x 13-inch baking dish with cooking spray.
Place the bread cubes in a large bowl.
In a separate bowl, whisk together the eggs, orange juice, milk, cinnamon and nutmeg.
Pour the egg mixture over the bread cubes. Toss gently until all of the bread is coated.
Transfer the bread, along with all of the liquid, to the prepared baking dish. Gently press down on the bread cubes so that they sit as flat as possible. Cover and refrigerate overnight.
Remove the casserole from the refrigerator 15 minutes before baking. Sprinkle the streusel evenly over the bread cubes.
Cover with foil and bake for 20 minutes. Remove the foil and bake until the bread is starting to brown and the egg mixture is set, 20 to 25 additional minutes.
Cut into squares and serve with fresh fruit and maple syrup.
Streusel:
In a small bowl, stir together the brown sugar, melted butter and pecans.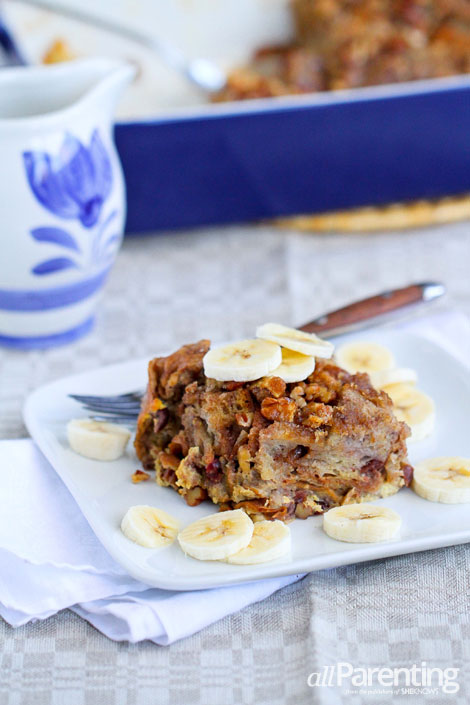 Hungry? Scroll through our delicious recipes!