Posted: Dec 16, 2013 6:00 AM
Bacon is hard to resist at any time. When its smoky self is wrapped around tender shrimp and paired with sweet cherry preserves, it elevates itself to a new level of irresistibility. There won't be any leftovers of these appetizers at your holiday party.
Tasty little bits and bites are part of what a good holiday party is all about. Nothing seems to disappear faster than appetizers that involve bacon. In these hors d'oeuvres, bacon is wrapped around tender shrimp and given a touch of sweetness with a smear of cherry preserves.
The last thing you want in any appetizer is floppy bacon or overcooked shrimp, so this recipe adds a quick step to help avoid this. The bacon is laid on a baking sheet and baked for a few minutes to start the cooking process. Wrap partially cooked bacon around the shrimp and cook until the shrimp are tender and the bacon is crispy. The result will be sweet and savory hors d'oeuvres that will leave your guests begging for more.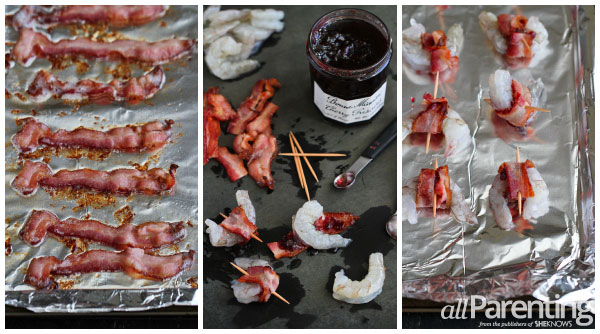 Bacon-wrapped shrimp with cherry preserves
Makes 24 hors d'oeuvres
Ingredients:
12 slices bacon
1/4 cup cherry preserves
24 large raw shrimp, peeled and deveined
1/2 teaspoon salt
1/2 teaspoon pepper
Minced parsley, for garnish
Directions:
Preheat the oven to 400 degrees F, with the oven rack placed in the middle position. Line a large baking sheet with foil. Soak 24 toothpicks in warm water for 15 minutes so that they don't burn in the oven.
Lay the bacon slices in a single layer on the prepared baking sheet. Bake until the bacon is partially cooked and the edges are beginning to brown but the bacon is still floppy. Discard the liquid fat and foil. Line the baking sheet with a fresh sheet of foil.
Cut the bacon slices in half crosswise. Spread 1/4 teaspoon of cherry preserves on 1 side of each piece of bacon.
Season the shrimp with salt and pepper. Working with 1 shrimp and 1 piece of bacon at a time, wrap the bacon around the middle of the shrimp, with the cherry preserves on the inside. Secure with a toothpick. Place the shrimp on the baking sheet.
Bake until the shrimp are almost cooked through, 5 to 6 minutes.
Switch the oven to the broiler setting. Cook until the bacon is browned and crispy, 3 to 4 minutes. Transfer to a serving dish and garnish with parsley. Serve.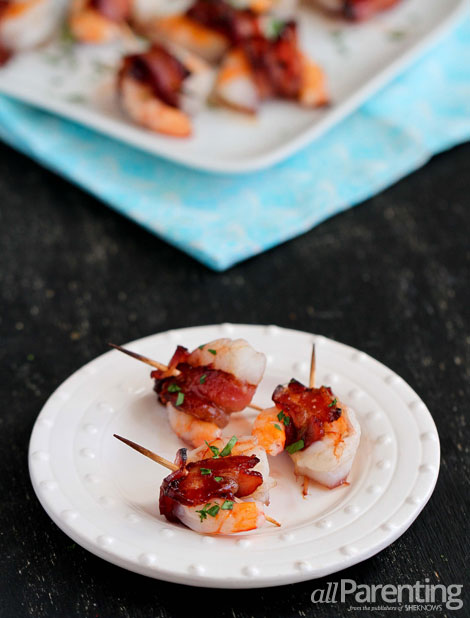 Hungry? Scroll through our delicious recipes!