Posted: Dec 17, 2013 6:00 AM
Not in the mood to cook a big dinner tonight? We totally understand and are here to help. With minimal effort and about 15 minutes of your time, you can have these pear, arugula and blue cheese flatbread pizzas and a side salad on the table and ready to eat. Serve with a glass of wine and dinner is done!
We all have those long days where cooking a big dinner is the last thing we want to do. That's where these pear, arugula and blue cheese flatbread pizzas come into play. They take very little time to prep and cook, plus they are so tasty that you'll feel like you spent hours on them.
If you find you have a little extra time on your hands, make your own flatbread from scratch. If not, it's totally OK. Hey, we don't always have time for DIY.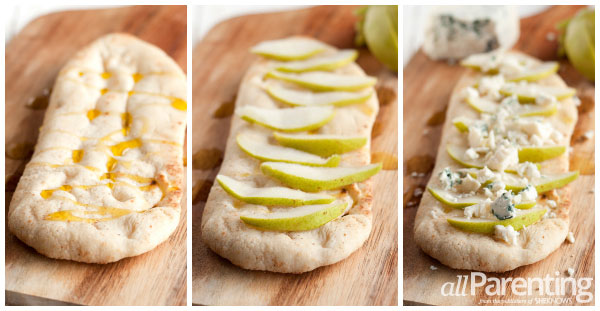 Pear, arugula and blue cheese flatbread pizza
Serves 4
Ingredients: 
4 pieces flatbread or naan bread
4 tablespoons olive oil
1 pear, cored and cut into thin slices
1 cup blue cheese, crumbled
2 cups fresh arugula
Balsamic vinaigrette (optional)
Directions:
Preheat oven to 400 degrees F and line a baking sheet with aluminum foil.
Place the flatbread pieces on the baking sheet and drizzle each piece with 1 tablespoon of olive oil.
Lay the thin slices of pear on the flatbreads and top with the crumbled blue cheese.
Bake for 5 to 7 minutes until the cheese is melted.
After removing from the oven, top the flatbread pizzas with fresh arugula. For an added burst of flavor, drizzle each one with a little balsamic vinaigrette.
Transfer the pizzas to a cutting board, cut into 4 equal pieces and serve.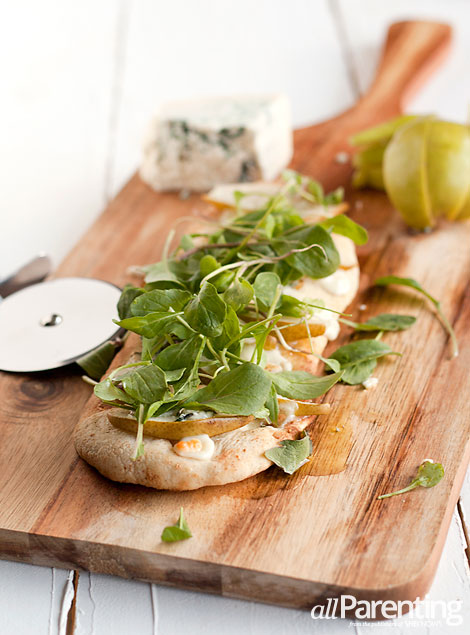 Hungry? Scroll through our delicious recipes!