Posted: Dec 11, 2013 6:00 AM
There's something wonderful about using a Crock-Pot in the winter. A mouthwatering scent fills the house as your dinner cooks and you don't have to labor over the stove. With this Crock-Pot vegetarian chili, you get all of that plus a delicious meat-free meal for the whole family to enjoy!
There's nothing better than a bowl of hot chili in the winter. It warms you up and fills your belly all at the same time. Plus, it's even better when you let the Crock-Pot do all the cooking for you. The only thing you really have to do is prep the veggies, toss them in along with some spices and the liquid and press cook. Can't beat that!
To really make this Crock-Pot vegetarian chili a complete meal, make some skillet cornbread about an hour before serving. If you don't have time, no worries. You can always eat the chili with a piece of whole wheat toast or skip the bread altogether. Whatever way you serve it up, this Crock-Pot chili will be a hit.
Crock-Pot vegetarian chili
Ingredients:
1 yellow onion, chopped
1 medium zucchini, chopped
3 carrots, peeled and chopped
1 red bell pepper, seeded and chopped
3 celery stalks, chopped
2 cloves garlic, diced
3 large tomatoes, peeled, seeded and chopped
1 (15 ounce) can black beans
1( 15 ounce) can kidney beans
1 (12 ounce) bottle stout beer
3 cups vegetable broth
1-1/2 tablespoons chili powder
1/2 teaspoon dried oregano
1 teaspoon salt
1/2 teaspoon black pepper
1/2 teaspoon cumin
Directions:
Add all ingredients into a Crock-Pot, cover with the lid and cook on low for 8 hours.
Ladle into bowls to serve and top with cheddar cheese, sour cream, jalapeño peppers or whatever else you like on your chili along with a side of homemade cornbread.
Refrigerate leftovers to enjoy the next night or freeze them in a Ziploc bag to enjoy at a later date.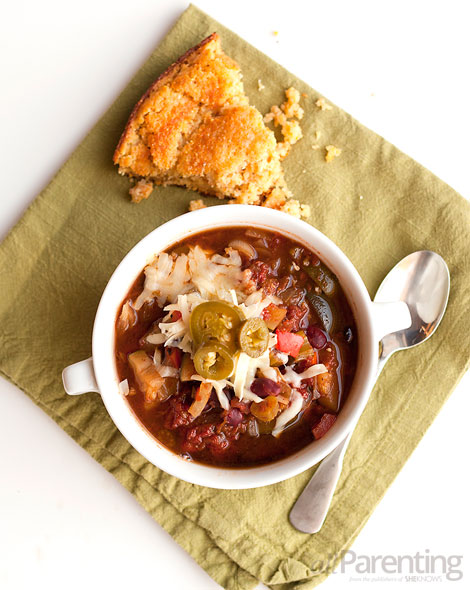 Hungry? Scroll through our delicious recipes!