Posted: Jan 19, 2013 6:00 AM
There's nothing like the smell of a simmering slow cooker in the wintertime. We asked six bloggers to share their favorite winter Crock-Pot recipes, and the results are delicious.
Looking for a hearty family meal you can set up in the morning and forget about all day? Try one of these classic Crock-Pot meals. Handpicked by bloggers, these are tasty Crock-Pot meals your family will love.

Restaurant-style pasta Fagioli
"Pasta Fagioli is my favorite winter soup because it tastes just like Olive Garden's recipe, but without all the fuss," says Tina of Mommy's Kitchen. "This recipe is easy to prepare and utilizes store-bought marinara sauce. Just toss everything in the Crock-Pot and you're good to go. Everyone will think you spent hours making this soup on the stove." Serve with a salad and you're good to go.

Italian beef sandwiches
"This is one of our favorite go-to meals when it's cold outside," says Hope of Slow Cooker Adventures. "It's super simple, with just two ingredients, and munching on nice warm sandwiches at the end of a long day is just something that you need. I can't even begin to tell you how delicious this recipe is!" Warm up fresh rolls to complete the hearty meal.

Healthy turkey chili
No one likes the vegetable fight when it comes to feeding kids. "This one-pot turkey chili recipe is hearty, filling and chock full of fresh, wholesome ingredients," says Galit of These Little Waves. The meal tastes great while containing tons of veggies kids love to avoid.

Gluten-free chicken enchilada chili
Monica of Wee Mama Bird has become an expert at adjusting recipes. "This recipe is super easy to make," she says. "Put the ingredients together in the morning, tear apart the chicken in the afternoon, dinner is done! The flavor is amazing and everyone in my family can eat it (including my daughter who has celiac disease)."

Roasted chicken
This simple roasted chicken recipe gives you an easy meal as often as you'd like, and it's easy to modify to your own tastes. "This is my go-to chicken recipe," says Rachel of A Southern Fairytale. "It's perfect to eat as is, to make into chicken salad, tacos or toss on salads and in casseroles!"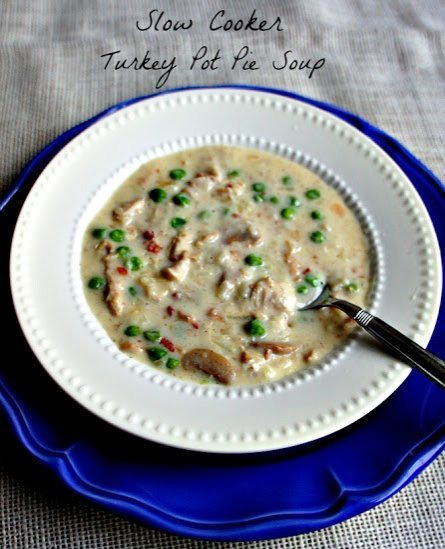 Turkey pot pie soup
"The turkey pot pie soup is creamy and so delicious," says Karen from 365 Days of Slow Cooking. "My kids love it too and it's always fun to serve with biscuits on the side." Using leftovers and easy-to-find freezer ingredients, this recipe is foolproof and perfect for Crock-Pot beginners. It's a hearty, thick soup that fills bellies and warms up any winter day.
More yummy meal ideas
5 New ways to enjoy avocado
Gluten-free recipe roundup
Salmon sliders with baby arugula