Posted: Apr 06, 2014 6:00 AM
Brie and bacon pizza? Oh yes! Creamy, gooey melted Brie pairs wonderfully with bacon. Top over your homemade pizza crust and you'll impress everyone in your house!
Making your own pizza dough and sauce takes a little extra time but is so worth it. If you simply don't have time, jump down and just make the savory melted Brie and bacon pizza with store-bought crust and sauce. Either way, your taste buds will do back flips for this scrumptious pizza. Did I mention there are not one but two types of bacon on the pizza? You're welcome.
Basic pizza dough
Ingredients:
2-1/4 cups white bread flour, plus extra for dusting on work surface
1 teaspoon instant yeast
1-1/2 teaspoons salt
3/4 cup lukewarm water
1 tablespoon extra virgin olive oil, plus extra for kneading
Directions:
Add flour to a mixing bowl. Add yeast and salt, making a small well on the top.
Mix the water and oil together and pour into the bowl, using a pastry knife or cutter to gradually combine all the flour and make a sticky dough.
Lightly flour work surface cutting board and knead dough for about 10 minutes until it's smooth and elastic.
Cover the dough with some lightly oiled plastic Saran wrap and let rise for an hour, or until it has doubled in size.
Basic pizza sauce
Ingredients:
1 tablespoon extra virgin olive oil
1 garlic clove, crushed
1 small onion, finely chopped
1 (14 ounce) can chopped tomatoes
1 tablespoon tomato paste
1 teaspoon dried oregano
Kosher salt and freshly ground pepper
Directions:
In a medium saucepan, heat olive oil over medium heat. Add garlic and onion and sauté for 8 to 10 minutes, or until soft and translucent.
Add the tomatoes, tomato paste, oregano, salt and pepper.
Simmer for 10 to 12 minutes, until the sauce is reduced and ready for spreading.
Store in a screw-top jar in the refrigerator for up to 1 week.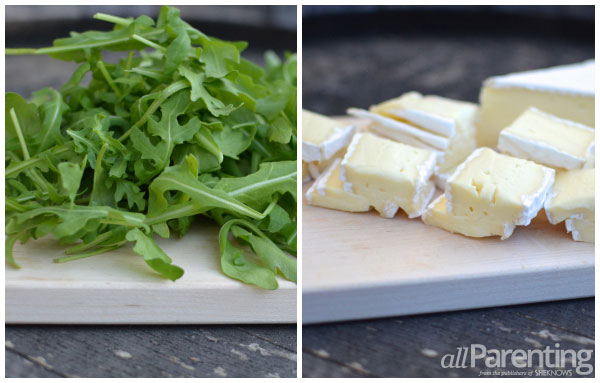 Melted Brie and bacon pizza
Makes 1 large or 2 small pizzas
Ingredients:
1 recipe basic pizza dough
3/4 cup basic pizza sauce
4 ounces, about 5 slices Canadian bacon, finely chopped
6 slices Applewood smoked bacon, cooked and finely chopped
1/2 pound Brie, thinly sliced
Kosher salt and freshly ground pepper
Baby arugula for garnish
Directions:
Make the basic pizza dough recipe from above. Divide into 2 balls if making 2 smaller pizzas or leave if making a large pizza and roll out dough on a lightly floured work surface.
Preheat oven to 475 degrees F.
Place the pizza crust(s) on baking sheets. Use 2 separate baking sheets if making smaller pizzas.
Spread the pizza sauce over crust(s).
Scatter the Canadian bacon over the sauce and bake in oven for 6 to 8 minutes to begin cooking crust and slightly brown Canadian bacon.
Remove pizzas from oven and lay the slices of Brie cheese over the top. Return to the oven for another 6 to 8 minutes or until cheese is melted and the crusts turn golden brown and crisp on the bottom.
Remove from oven and season with a sprinkle of salt and pepper, and then top with Applewood smoked bacon.
Garnish with baby arugula.
Slice and serve immediately. Enjoy!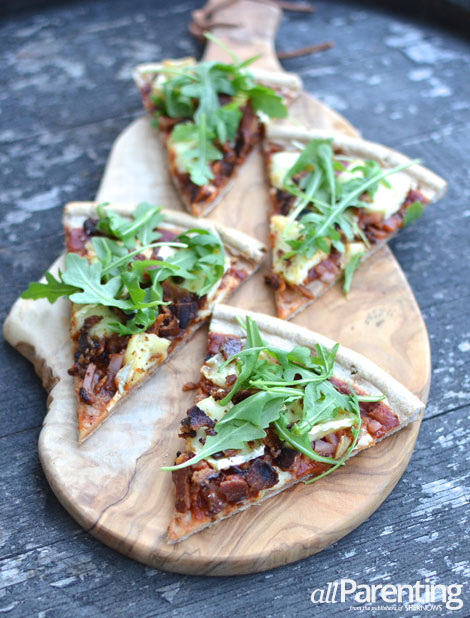 Hungry? Scroll through our delicious recipes!