Posted: Jan 27, 2014 6:00 AM
With all of the heavy comfort foods of fall and winter, the craving for something lighter is bound to hit. Sprinkle fresh mushrooms, roasted peppers and herbs on a store-bought crust, sprinkle with cheese and bake to bubbling perfection.
As January comes to a close, most people are still detoxing from the holidays and are diligently sticking to their New Year's resolutions. Whether or not your resolutions involve eating lighter, this vegetarian pizza is one you will want to work into your weekly meal rotation.
If you don't want to bother with pizza dough, a prebaked pizza crust from the supermarket will work just as well. Just follow the cooking directions on the package. The prebaked crusts are available in whole wheat, in case you are hoping for a few extra grams of fiber.
In this recipe, the pizza is layered with spinach, mushrooms sautéed with garlic, roasted peppers and tomatoes. Mix up the vegetables depending on your family's preferences, but be sure to slip in something that is sauteed with garlic. You do not want to miss out on that extra layer of flavor.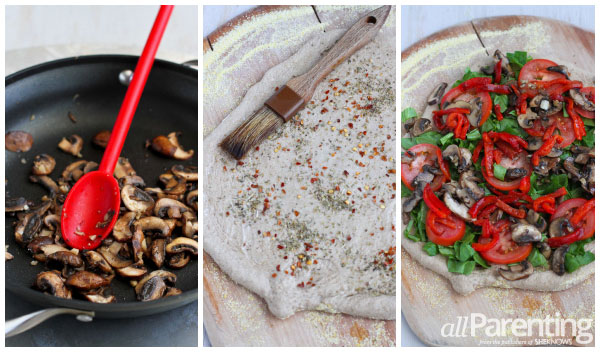 Vegetarian pizza with mushrooms and roasted peppers
Serves 8
Ingredients:
1 tablespoon + 2 teaspoons olive oil, divided
2 garlic cloves, minced
6 ounces mushrooms, sliced
1/2 teaspoon salt, divided
1/2 teaspoon ground pepper, divided
1 package (16 ounce) store-bought pizza dough
Cornmeal for the pizza paddle
1/2 teaspoon dried oregano
1/8 teaspoon crushed red pepper (optional)
1-1/2 cups chopped fresh spinach
1 Roma tomato, thinly sliced
1 (2 halves) roasted red pepper, sliced
1/3 cup grated mozzarella cheese
3 tablespoons grated Parmesan cheese
4 basil leaves, thinly sliced
Directions:
Preheat the oven to 500 degrees F. Place a pizza stone in the oven.
Heat 2 teaspoons of olive oil in a medium skillet set over medium heat. Add the garlic and cook for 30 seconds. Add the mushrooms and cook until the mushrooms are tender, about 5 minutes. Season with 1/4 teaspoon salt and 1/4 teaspoon pepper.
Roll out the pizza dough on a floured surface and place it on a pizza paddle coated with cornmeal.
Brush the dough with 1 tablespoon olive oil and sprinkle with oregano, 1/4 teaspoon salt, 1/4 teaspoon pepper and crushed red pepper (if using).
Layer the spinach, tomato, mushrooms and roasted red pepper onto the dough. Top with the mozzarella and Parmesan cheese.
Bake until the crust is starting to brown and the cheese is melted, about 8 minutes.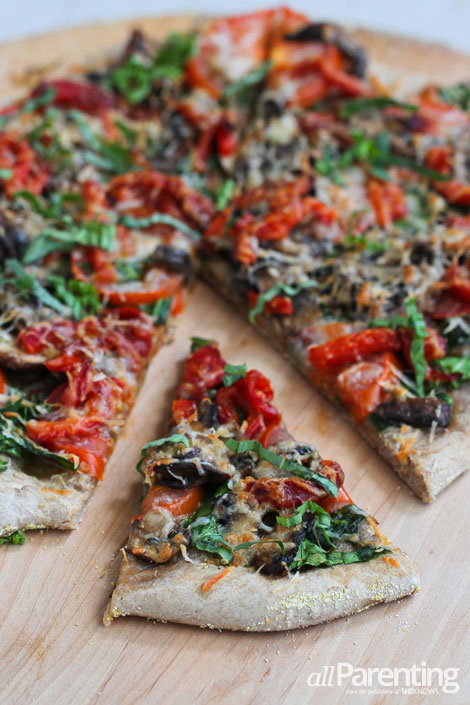 Hungry? Scroll through our delicious recipes!