Posted: Jan 23, 2014 6:00 AM
It's always tough to resist a good breakfast hash with golden brown potatoes. This version takes hash to a whole new level with the addition of smoked salmon and fresh herbs.
The best part of a diner breakfast is often the humble helping of hash browns on the side of the plate. There is no reason why those golden brown potatoes can't get dressed up and become the star of the show. Chop up some smoked salmon and fresh dill for a pop of color and salty, fresh flavors.
To really take this breakfast dish to the next level, top the hash with a fried egg. The burst yolk will seep down over the potatoes, coating the hash browns.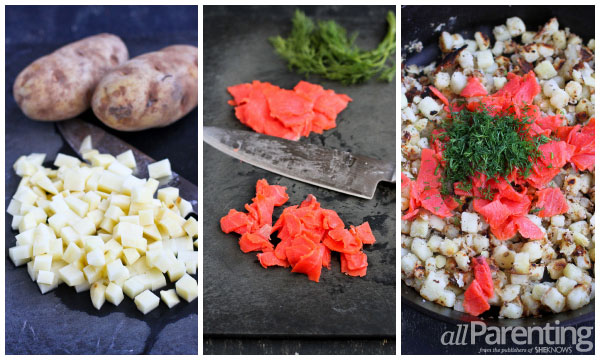 Smoked salmon hash
Makes 8 (1/2 cup) servings
Ingredients:
3/4 pounds russet potatoes, peeled and cut into 1/2-inch dice
1 tablespoon olive oil
2 garlic cloves, minced
1/2 teaspoon salt
1/2 teaspoon ground pepper
4 ounces smoked salmon, roughly chopped
2 tablespoons minced fresh dill
Directions:
Bring a large saucepan of lightly salted water to a boil over high heat. Add russet potatoes and cook until just tender, about 8 to 10 minutes. Drain.
Heat the olive oil in a large skillet (preferably cast-iron) set over medium-high heat.
Add garlic and cook for 1 minute, stirring frequently.
Stir in the cooked russet potatoes and salt. Cook, stirring occasionally, until the potatoes start to brown, 10 to 15 minutes.
Stir in the smoked salmon and dill. Serve.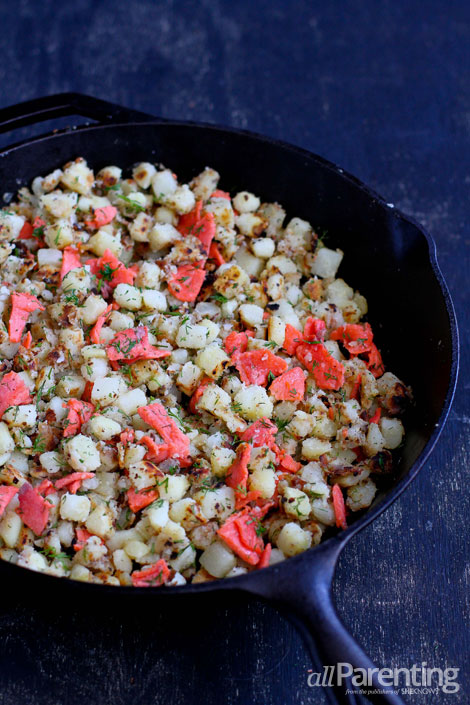 Hungry? Scroll through our delicious recipes!