Posted: Jan 13, 2014 6:00 AM
Whether you want an easy weeknight meal, or something to serve to friends on Super Bowl Sunday, this classic recipe is sure to please. The pickled onions add a tangy flavor that balances the slight sweetness of the pork.
When it comes to feeding a crowd on Super Bowl Sunday or at any other gathering, pulled pork sandwiches just cannot be topped. Pork shoulder is an expensive cut of meat and just requires several hours in the slow cooker to turn into tender, shredded goodness. Pile the barbecue sauce-spiked pork onto hamburger buns and top with pickled onions for a sandwich that will inspire all of your guests to ask for the recipe.
The pickled onions can be made in as little as an hour, but are best when allowed to rest for several hours. Prepare the onions when the pork goes into the slow cooker and they should be perfectly pickled by the time the sandwiches are served. Any leftover onions can be stored in the refrigerator for up to two weeks.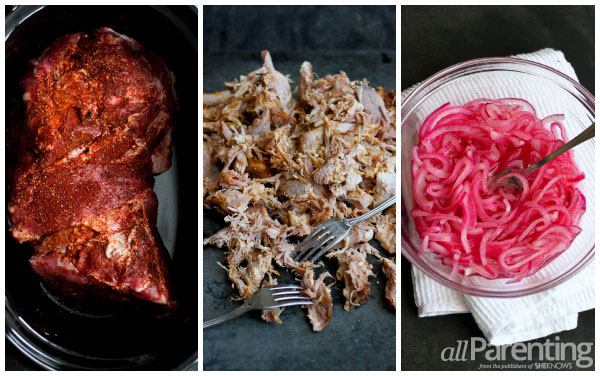 Slow cooker pulled pork sandwiches with pickled onions
Serves 8
Ingredients:
The pork:
1-1/2 teaspoons chili powder
1 teaspoon paprika
1 teaspoon salt
1/2 teaspoon garlic powder
1/2 teaspoon ground pepper
1 (4 pound) bone-in or boneless pork shoulder (pork butt), fat trimmed
1/4 cup water
2 cups good-quality barbecue sauce
Plain or whole wheat hamburger buns
The onions:
1 red onion, halved and thinly sliced
Boiling water
1 tablespoon granulated sugar
3/4 teaspoon salt
Directions:
The pork:
In a small bowl, stir together the chili powder, paprika, salt, garlic powder and ground pepper. Rub the mixture over the pork shoulder and place in the slow cooker.
Cover and cook until the pork is fork tender, about 8 hours on LOW. Transfer the pork to a cutting board and strain the liquid, skim off the fat and reserve the liquid.
Using 2 forks, shred the pork. Return the pork to the slow cooker, along with the barbecue sauce and 1/2 cup of the reserved liquid. Heat on HIGH for 1 hour.
Serve the pork on hamburger buns with some of the pickled onions.
The onions:
Place the onions in a glass bowl. Pour just enough boiling water over the onions to cover them. Let sit for 1-1/2 minutes, then drain. Return the onions to the glass bowl.
In a small saucepan set over medium heat, stir together the vinegar, sugar and salt until the sugar and salt are dissolved. Pour the mixture over the onions, pressing the onions into the liquid. Let cool, then cover and refrigerate for up to 2 weeks.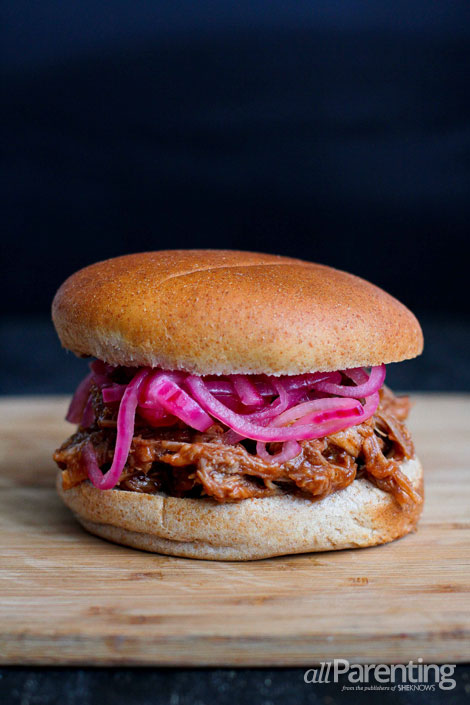 Hungry? Scroll through our delicious recipes!