Posted: Jan 09, 2014 6:00 AM
Cooking tender, juicy salmon is as easy as 1-2-3. Salmon fillets are wrapped in foil, along with honey and fresh herbs. The foil helps to retain the moisture and you will be rewarded with a flavorful meal that comes together with little effort.
When you find a way to cook salmon that makes it tender and flaky, and imparts sweet and salty flavors, your family will beg you to make it every week of the month. Both this recipe and the Broiled teriyaki salmon fall into this category. For this recipe, a large salmon fillet is wrapped in foil with a honey mixture and fresh herbs, then baked to perfection.
When you bring the salmon fillet home from the store, it will likely have skin on it. There is no need to attempt the nearly impossible task of removing it before baking. Once cooked, just slide a metal spatula between the salmon and the skin and it should slide right off. Cut the salmon into portions and serve alongside rice or roasted potatoes, and a salad.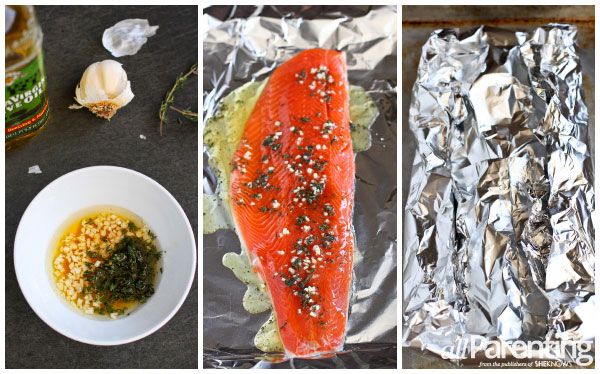 Salmon baked in foil
Serves 4
Ingredients:
3 tablespoons honey or agave nectar
1 tablespoon white wine vinegar
1 tablespoon extra-virgin olive oil
1 tablespoon minced fresh thyme
2 garlic cloves, minced
1/2 teaspoon salt
1/2 teaspoon ground pepper
1/2 salmon (about 1-1/2 pounds), with or without skin (remove before eating)
Directions:
Preheat the oven to 375 degrees F.
In a small bowl, whisk together the honey, white wine vinegar, olive oil, thyme, garlic, salt and pepper.
Lay the salmon on a double sheet of foil on top of a baking sheet.
Fold all 4 sides of the foil up and pour the honey mixture evenly over the salmon.
Seal the foil by folding it as though you are wrapping a present. Place the salmon in the oven.
Cook until the salmon is just cooked through, about 15 minutes. Take care not to overcook the salmon.
Unwrap the salmon from the foil, cut into pieces and serve hot or at room temperature.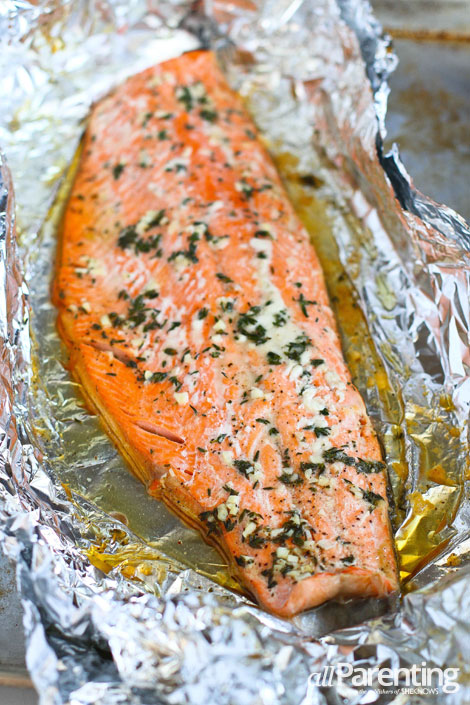 Hungry? Scroll through our delicious recipes!