Posted: Jan 20, 2014 6:00 AM
Turn that "boring" pork chop reputation upside down with this easy dinner idea. Cook the pork chops on the stove top and coat them with a simple apricot preserve glaze. The result is perfect pork chops every time.
There's nothing simpler than a fruit glaze made with preserves and a little juice, and it can do magical things to an economical meal like pork chops. Pork chops usually get a bad rap because they are often dried out and lacking in flavor. This recipe changes all of that.
Using thin pork chops ensures a quick cooking time. Two to three minutes per side is all that is needed for a golden brown exterior and juicy meat on the inside. Brown onions and fresh ginger add a wonderful layer of flavor to the sweet apricot glaze. This is a recipe that is worthy of entertaining.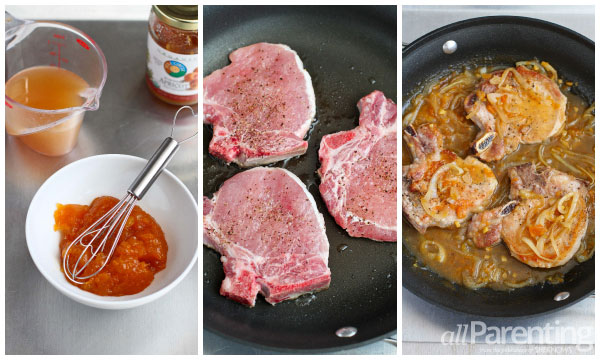 Pork chops with apricot glaze
Serves 4
Ingredients:
1/2 cup apricot preserves
1/2 cup unfiltered apple juice
4 bone-in pork chops (1/2-inch each)
1/2 teaspoon salt
1/2 teaspoon ground pepper
1 tablespoon plus 1 teaspoon olive oil
1/2 medium onion, thinly sliced
1 tablespoon minced fresh ginger
Directions:
In a medium bowl, whisk together the apricot preserves and apple juice. Set aside.
Season the pork chops with salt and pepper.
Heat 1 tablespoon olive oil in a large skillet set over medium-high heat. Cook the pork chops until just cooked through, 2 to 3 minutes per side. Transfer the pork chops to a plate.
Reduce the heat to medium and add additional 1 teaspoon olive oil. Add the onion and sauté until the onions are starting to brown, about 5 minutes. Stir in the ginger and cook for 1 more minute.
Pour in the apricot preserve mixture and simmer until the sauce is slightly thickened, about 3 minutes.
Return the pork chops to the pan and turn to coat. Serve the pork chops with the onions and sauce.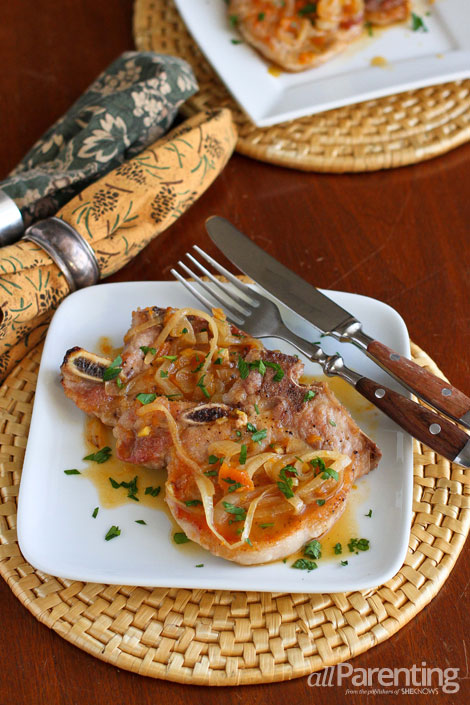 Hungry? Scroll through our delicious recipes!