Posted: Feb 11, 2014 6:00 AM
When those bananas go brown, most of us think to use them in banana bread. While there's nothing wrong with that, we like to switch things up a bit and instead use our ripe bananas in these banana nut muffins with cinnamon crumb topping. They are sweet, moist and great for a mid-morning snack. Can't beat that!
Move over banana nut bread, there's a new kid in town. That's right, it's these homemade banana nut muffins with cinnamon crumb topping. Whether enjoying for breakfast, a mid-morning snack or dessert, they are simply scrumptious. Bake a batch today and enjoy!
Banana nut muffins
Makes 18 
Ingredients:
1-1/2 cups unbleached all-purpose flour
1-1/2 teaspoons baking soda
1/4 teaspoon salt
1/2 teaspoon cinnamon
1/8 teaspoon nutmeg
1-1/2 cups mashed bananas, should equal 3 large bananas
1/2 cup sugar
1/4 cup firmly packed brown sugar
1 egg
1 teaspoon vanilla extract
1/4 cup milk
1/2 cup (1 stick) unsalted butter, melted
1/2 cup chopped nuts of your choice (walnuts, pecans and macadamia nuts are all good choices)
Directions:
Preheat oven to 350 degrees F and line a muffin pan with baking cups.
In a large bowl, combine the flour, baking soda, salt, nutmeg and cinnamon. Set aside.
In a medium bowl, add mashed bananas, both sugars, egg, vanilla extract, milk and melted butter. Mix together to combine.
Add the wet ingredients to the dry ingredients and mix to combine.
Fold the nuts into the batter. Set the batter aside while you prepare the cinnamon crumb topping (directions below).
Once the cinnamon crumb topping is done, scoop muffin batter into the baking cups, filling 3/4 of the way full.
Top with a generous spoonful of the cinnamon crumb topping and bake in the oven for 16 to 18 minutes, or until a cake tester inserted in the middle comes out clean.
Transfer the banana nut muffins to a wire rack to cool for a few minutes before enjoying. Store leftover muffins in an airtight container if you'll be enjoying them in the next few days. Or, if you'd like to extend their life, put them in a freezer bag and store in the freezer until you are ready to defrost and enjoy.
Cinnamon crumb topping
Ingredients:
1/4 cup unbleached all-purpose flour
1/2 cup firmly packed brown sugar
1 teaspoon cinnamon
3 tablespoons cold, unsalted butter
1/4 cup chopped nuts
Directions:
In a small bowl, combine the flour, brown sugar and cinnamon.
Cut in the cold butter using 2 butter knives or a pastry blender.
Mix in the nuts and the topping is ready to be used on the muffins.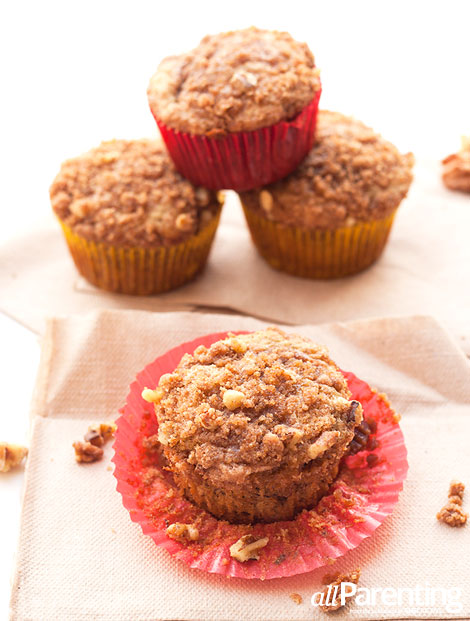 Hungry? Scroll through our delicious recipes!