Posted: Feb 18, 2014 10:00 AM
Depending on how it's made, an amaretto sour cocktail can either be really good or really bad. Since we never want you to experience the latter, we are sharing our beloved recipe for this classic cocktail. Made with just two ingredients, you can't go wrong with one of these sweet and sour drinks any time of the day.
A sour cocktail is a simple mixture of a base spirit, lime or lemon juice and a non-alcoholic sweetening agent. It's a classic combination that has been around since at least the mid-1800s. Sometimes, you'll see additional ingredients such as carbonated water, liqueurs or egg whites added but the base still remains the same — a spirit and a sour.
The drink will usually be named after the base spirit used, as seen with the whiskey sour, the Pisco sour and this amaretto sour cocktail.
In this amaretto sour recipe, we've kept it pretty simple with just amaretto and fresh-squeezed lemon. Because the amaretto is pretty sweet already, we don't add any additional sweetener. However, you can add some simple syrup and/or adjust the ratios in the drink as needed to fit your own preferences. That's the beauty of making your own cocktails at home!
Amaretto sour cocktail
Serves 1
Ingredients:
2 ounces amaretto
1 ounce fresh-squeezed lemon juice
1 maraschino cherry and 1 half orange wheel for garnish
Directions:
Add the amaretto and lemon juice to a cocktail shaker filled with ice.
Shake and strain into a chilled sour glass or an ice-filled rocks glass.
Garnish with a cherry and half orange wheel and enjoy!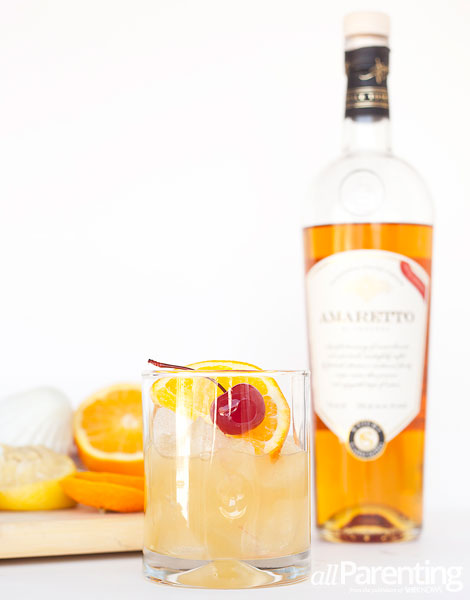 Cheers! We have lots of cocktail recipes!