Posted: Jan 16, 2014 6:00 AM
Shelve the rice and its empty carbs and reach for quinoa instead for a healthy bowl, just bursting with flavor!
We all love the flavors of a burrito, but many of us have ditched the heavy tortilla in favor of a scoop of rice. Now, we're taking that one healthy step further and swapping out the rice with its empty calories in favor of nutrient-rich quinoa. Then, we're drizzling our bowl with fresh jalapeño-cilantro lime sauce for a protein-packed, flavorful meal that won't disappoint your family's taste buds!
Quinoa burrito bowl
Serves 4
Ingredients:
2 cups cooked quinoa
2 cups pinto beans
2 cups black beans
18-20 cherry tomatoes
2 avocados
Sour cream (optional) 
Shredded Mexican blend cheese (never optional) 
Jalapeño-cilantro lime sauce (recipe below) 
Directions:
Place 1/2 cup of quinoa into each of the 4 bowls.
Place 1/2 cup of both the pinto beans and the black beans atop the quinoa.
Top with diced tomatoes, sliced avocados, shredded cheese and sour cream.
Drizzle the jalapeño-cilantro lime sauce on top and enjoy!
Jalapeño-cilantro lime sauce
Ingredients:
4 jalapeños, seeded, deveined and cut into a small dice
1 large bunch cilantro, (roughly 1-1/2 cups) 
3 garlic cloves
Juice of 3 limes
3/4 cup olive oil
Salt to taste
Directions:
Place everything but the olive oil in a blender or food processor and process until the ingredients are roughly combined.
With the blender or food processor running, add the olive oil, pouring in a slow, steady stream.
Replace the cover and blend until the sauce is smooth enough to pour.
Use immediately or refrigerate until ready to use.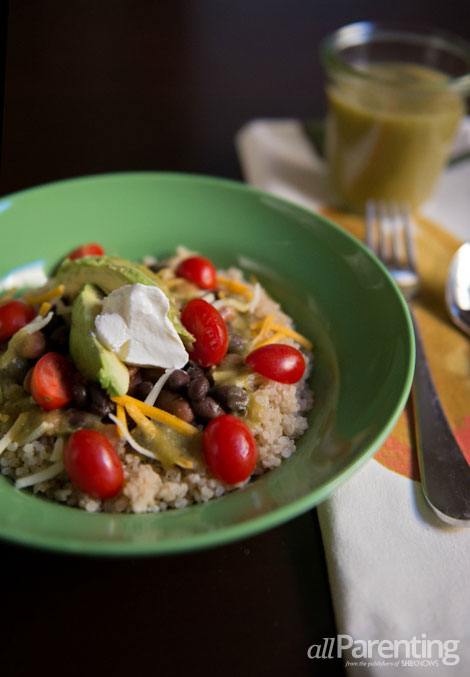 Hungry? Scroll through our delicious recipes!