Posted: Feb 03, 2014 6:00 AM
Whether you're preparing a romantic meal for Valentine's Day or an anniversary, this soy-marinated tuna is bound to impress. A quick turn on the grill lends just the right amount of seared flavor.
When you want to share the perfect meal with your sweetheart on Valentine's Day, but just don't have it in you to battle all of the other couples at the local restaurants, making a beautiful meal at home is the way to go. Ahi tuna is something most people just order in restaurants, but it is surprisingly easy to make in your own kitchen.
In this recipe, the ahi tuna steaks take a short dip in a soy sauce and lime marinade. Make sure that the tuna does not sit in the marinade for too long, otherwise the acid in the lime juice will start to cook the fish, like ceviche.
If you are not a fan of raw fish, you could cook the tuna more than what is shown here. However, the flavors and textures of the fish are best when the outside is seared and the inside is left raw.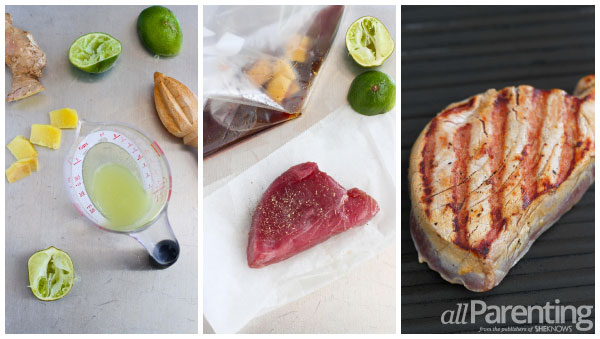 Soy-marinated grilled tuna
Serves 2
Ingredients:
1 tablespoon fresh lime juice
2 tablespoons soy sauce
2 teaspoons sesame oil
1 (1-inch) piece fresh ginger, sliced
2 (6 ounces each) fresh ahi tuna steaks, about 1-inch each
1/2 teaspoon ground pepper
1 green onion, thinly sliced
Directions:
In a small bowl, whisk together the fresh lime juice, soy sauce and sesame oil. Pour the mixture into a large resealable plastic bag. Add the ginger slices.
Season the ahi tuna steaks with pepper, transfer to the bag and seal the bag and marinate for 15 minutes. Take care not to marinate for any longer, otherwise the fish will start to "cook" in the marinade.
Transfer the marinade to a medium glass bowl and microwave for 1 minute.
Heat an oiled grill or grill pan over medium-high heat. Sear the fish until the desired degree of doneness is reached, about 2 minutes per side.
Thinly slice the ahi. Garnish with green onions and serve with the heated marinade.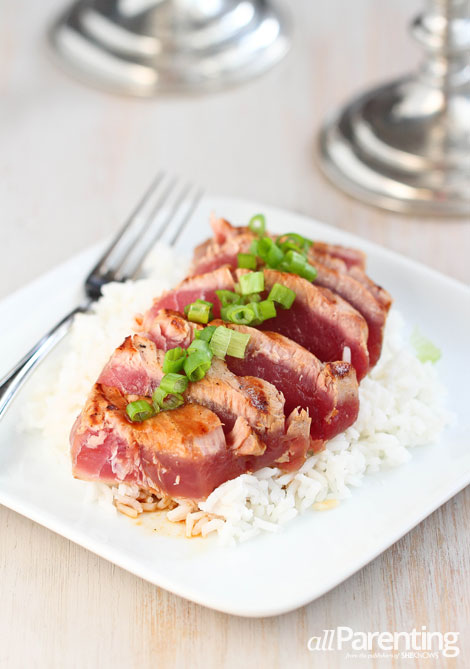 Hungry? Scroll through our delicious recipes!