Posted: Jan 30, 2014 6:00 AM
Soup can be fantastic. Or it can be beyond boring. We've loaded the flavor into this Thai noodle soup and paired it with tasty Thai beef skewers. Count on saying goodbye to that boredom!
If the thought of another bowl of soup leaves you feeling unexcited, we think you'll rethink how you feel about soup when you lean over a pot of this savory soup. Goodbye bland and hello delicious!
Thai beef noodle soup with marinated Thai beef skewers
Serves 4
Marinated Thai beef skewers
Ingredients:
1-1/2 pounds flank steak
1/3 cup dry sherry
1/4 cup soy sauce
1/4 cup rice vinegar
1 tablespoon honey
1 tablespoon toasted sesame oil
2 tablespoons finely chopped fresh ginger
4 garlic cloves, minced
1 teaspoon red pepper flakes
1/2 teaspoon ground coriander
Directions:
Slice the flank steak across the grain into 1/4-inch thick slices.
In a shallow dish large enough to hold the flank steak, stir together the marinade ingredients.
Add the flank steak and coat each slice thoroughly.
Cover the dish and allow to stand for 40 minutes at room temperature (or marinate for up to 5 hours in the refrigerator).
Prepare the skewers for the grill by soaking them in lukewarm water for 30 minutes.
Preheat the grill to high heat.
Drain the skewers.
Remove the meat from the marinade, discarding any remaining liquid.
Thread the meat onto the skewers.
Place the skewers on the grill and cook until seared on both sides roughly 4 to 5 minutes for medium well, turning once at the 2-minute mark.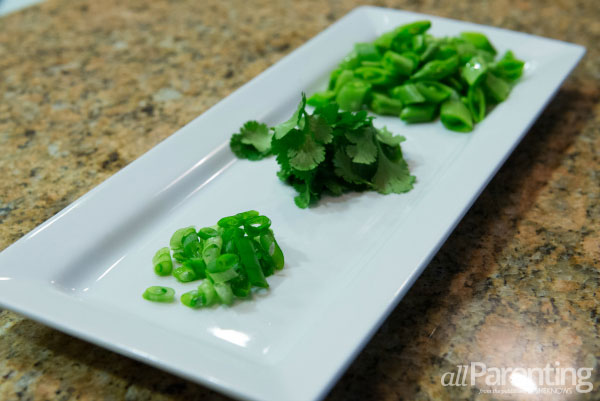 Thai beef noodle soup
Ingredients:
6 ounces packaged rice noodles
2 teaspoons peanut oil
4 medium uncooked scallions, green and white parts, divided and chopped
1 medium jalapeño pepper, seeded and minced
1 tablespoon ginger root, minced
7 cups beef broth
2 tablespoons low-sodium soy sauce
1/4 cup cilantro, chopped
1/2 cup frozen pea pods, cut into large bite-sized pieces
Instructions:
Break noodles into 3-inch pieces.
Heat oil in a medium saucepan over medium-high heat.
Add white portion of scallions, jalapeño and ginger and sauté 1 minute.
Add broth and soy sauce and bring mixture to a boil.
Reduce heat to medium-low, partially cover and simmer 10 minutes (if necessary, skim fat from the surface during cooking).
Add noodles and pea pods and simmer until noodles are just tender, 3 minutes.
Remove from heat and add green portion of scallions, cilantro and pepper sauce.
Serve with beef skewers.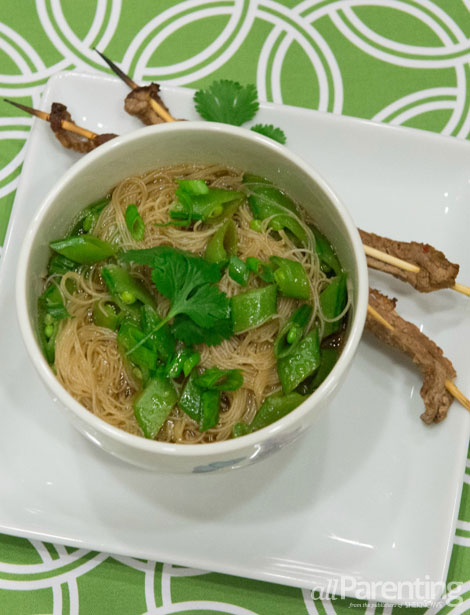 Hungry? Scroll through our delicious recipes!