Posted: Feb 05, 2014 8:00 AM
Valentine's Day brings with it chocolate, chocolate and more chocolate. Break through all of that rich chocolate with these fruity bars, jam packed with raspberries.
Linzer torte bars
Yields 1 (9 × 13-inch) pan, roughly 32 small bars
Base and lattice:
4-1/2 cups blanched almonds
3 cups all-purpose flour
2 teaspoons cinnamon
1/8 teaspoon salt
2-1/2 sticks cold, salted butter, cut into chunks
1-1/3 cups granulated sugar
2 eggs plus 1 egg yolk
Zest of 1 lemon
Filling:
1/8 cup ground almonds
2 cups seedless raspberry jam
The finishing touch:
1 egg yolk
1 teaspoon water
To make the base:
Heat oven to 400 degrees F.
Butter 1 (9 × 13-inch) rectangular pan. Line the bottom of the pan with a piece of parchment paper, then butter the paper.
In a food processor or high-powered blender, process the almonds and 1/2 cup of the flour until the almonds are ground finely but haven't turned into paste, roughly 10 to 20 seconds.
Place the cinnamon, salt and remaining 2-1/2 cups of flour in a large mixing bowl.
With a pastry blender (a fork will do if you're in a pinch), cut the butter into the dry mixture until it forms coarse crumbs.
Stir in the almond flour mixture and the sugar.
In a small, shallow dish, beat the egg, the additional yolk and lemon zest until combined, and then add to the crumb mixture.
Combine with a spoon until stiff, then finish combining the mixture with your hands.
Knead until it forms a ball (just until it holds together).
Divide dough in half.
Place 1/2 of the dough in the bottom of the pan.
Using your fingers, press firmly and evenly across the bottom of the pan and up the sides a bit, roughly 1-1/2 inches up.
Bake the base for 15 minutes.
While the base is baking, roll remaining dough between 2 pieces of waxed paper, until it's roughly 1/4-inch thick and a bit bigger than your pan size.
Place in the freezer until thoroughly chilled, roughly 25 minutes.
Remove the base from the oven and allow to cool slightly.
Reduce the oven temperature to 350 degrees F.
To make the filling: 
Sprinkle ground almonds over the shell.
Stir jam a bit to make sure it's soft enough to spread.
Spread jam over the shell.
With a heart-shaped cookie cutter, cut dough.
Arrange hearts 1/2- to 3/4-inch apart.
To make the finishing touches:
Mix egg yolk and water.
Brush the egg wash all over lattice and edges.
Bake for 1 hour, until crust on top is well-browned.
Remove from the oven and cool on a wire rack.
Dust liberally with powdered sugar before cutting into squares.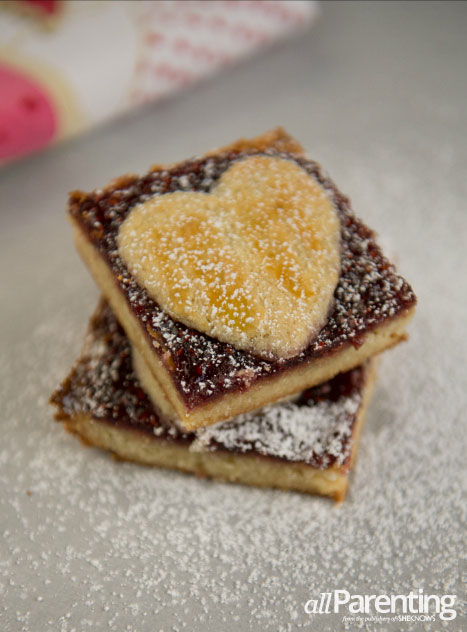 Cure your sweet tooth with endless dessert ideas!