Posted: Feb 07, 2014 6:00 AM
Impress your loved one on Valentine's Day with these individual potato gratins, laced with Gruyere cheese and green onions. They are the perfect accompaniment for a filet or pork tenderloin.
If you are looking to impress your "special someone" on Valentine's Day, a home-cooked candlelit meal is the way to go. These individual potato gratins make a pretty presentation and are the ideal sidekicks for a perfectly cooked filet. Melted, nutty Gruyere cheese, which is available in most supermarkets, may make these gratins the star of the meal.
Of course, Valentine's Day is meant to include chocolate. Consider kicking off the evening with Chocolate kiss martinis and rounding things out with Mini chocolate truffle pies. That sounds like an amorous evening in the making.
The milk will only fill the ramekins halfway. As the gratins cook, the milk will bubble and cook the potatoes in the top layers. The top cheese layer should sit about 1/4 inch below the rim of the ramekins so that the mixture does not overflow while cooking.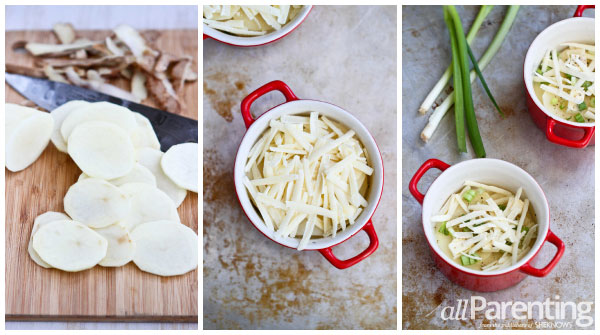 Individual potato gratins
Serves 2
Ingredients:
1 (8 ounce) russet potato
1/3 cup (packed) grated Gruyere cheese
1 teaspoon all-purpose flour
1 green onion, thinly sliced
6 tablespoons 2 percent milk
1 tablespoon butter, cut into small pieces
1/4 teaspoon salt
1/4 teaspoon ground pepper
1/4 teaspoon grated nutmeg
Directions:
Preheat the oven to 375 degrees F. Line a baking sheet with foil. Lightly coat 2 (8 ounce) ramekins with cooking spray.
Using a sharp knife or a mandoline, cut the potato into 1/8-inch slices. Layer half of the potatoes into the prepared ramekins, overlapping the potatoes so that they reach the edges.
In a small bowl, toss the Gruyere cheese with the flour.
Divide the green onions between the ramekins.
Layer half of the milk, butter, salt, pepper and cheese mixture, and all of the grated nutmeg over the potatoes.
Repeat with the remaining potatoes, milk, butter, salt, pepper and cheese mixture.
Place the ramekins on the prepared baking sheet. Bake until the potatoes are tender when pierced with a fork and the cheese is golden brown, about 40 minutes. Serve immediately.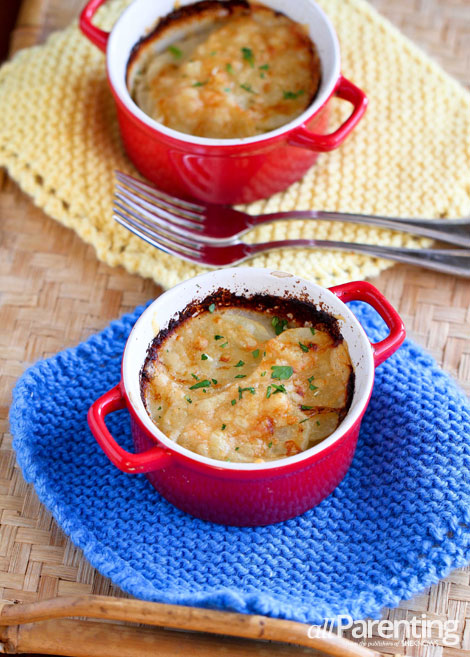 Hungry? Scroll through our delicious recipes!