Posted: Mar 05, 2014 6:00 AM
While it's sometimes fun to take a fresh spin on old favorites, there are also times when only the true dish will do… and that's what this traditional Irish stew is all about.
You don't have to be Irish to get in on the St. Patrick's Day fun. And nothing says luck of the Irish quite like a steaming bowl of Irish stew. This huge pot of stew simmers all day, so be prepared for your house to smell heavenly and for your mouth to water as you wait to dig in!
Irish stew with a touch of stout
Serves 4
Ingredients:
1 pound beef stew meat
2 tablespoons olive oil
2 tablespoons butter
3 cloves garlic, minced
Kosher salt
Fresh-cracked black pepper
3 tablespoons tomato paste
1 bay leaf
1 bottle Guinness or other stout
6 cups beef stock
2 tablespoons olive oil
1/2 yellow onion, chopped into a fine dice
5 carrots, roughly cut into coins
6 Yukon Gold potatoes, quartered
Directions:
In a heavy stock pot or Dutch oven, heat olive oil over medium heat until warm.
Add butter and stir until butter melts and is combined.
Increase the heat to medium-high and add the minced garlic.
Once the garlic is golden (1-2 minutes), add the stew meat, sprinkle with kosher salt and fresh pepper and brown on all sides. Cook for 2 more minutes.
Add the tomato paste, Guinness, bay leaf and the beef stock and bring to a boil.
Cover, reduce heat and cook at a low simmer for 5 to 6 hours.
In the last half hour of the cooking time, heat the remaining 2 tablespoons of olive oil in a large sauté pan over medium heat. Add the onions and sauté for 3 minutes.
Add the carrots and potatoes and cook until the onions are soft and translucent.
Add this vegetable mixture to the pot with the broth and meat.
Continue to simmer on low for another 1 to 1-1/2 hours.
Remove bay leaf.
Serve immediately and enjoy your St. Patrick's Day feast!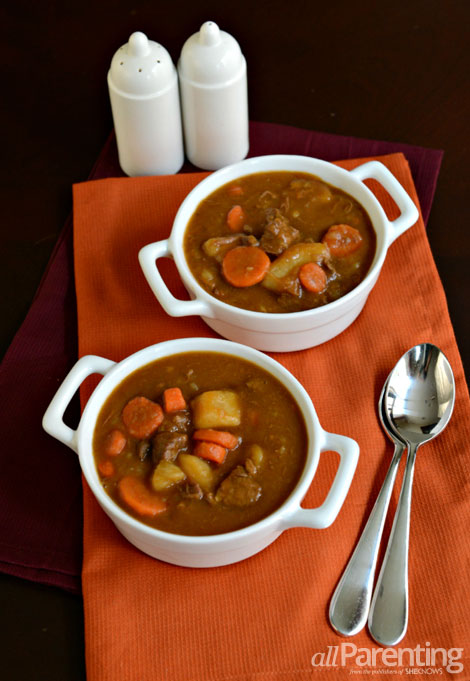 Hungry? Scroll through our delicious recipes!