Posted: Mar 12, 2014 6:00 AM
At the end of a long day, pizza is sometimes the only thing that sounds good for dinner. Rather than going out for it, save yourself money (and calories) by making these apple, gorgonzola and spinach naan pizzas at home. They only take a few minutes to put together and make, but they taste like you spent hours on them. It really doesn't get better than that for an easy dinner at home!
On those nights when you're really tired or don't have a lot of time to cook, pizza at home is the perfect dinner. It takes little time to make and it's really easy to eat. Although, we think the best part is being able to add your own ingredients to make pizzas that are more delicious than anything you could have delivered to your door. Such is the case with these apple, gorgonzola and spinach naan pizzas.
Adults are sure to love the combination of Granny Smith apple slices, crumbled gorgonzola cheese and spinach on these naan pizzas. However, kids might not like the "stinky" cheese. If that's the case, substitute the gorgonzola for mozzarella or cheddar. Oh, and if you find you have a little extra time on your hands, replace the naan bread with homemade pizza crust.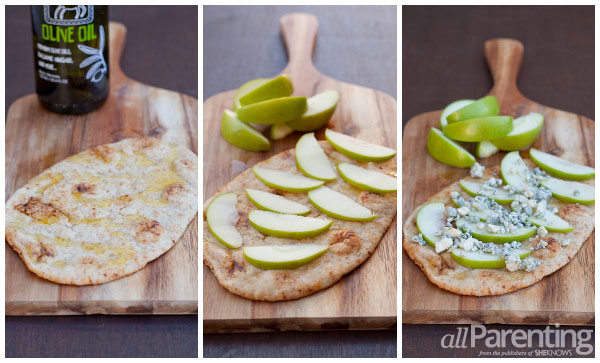 Apple, gorgonzola and spinach naan pizzas
Serves 4
Ingredients:
4 pieces whole wheat naan bread
4 tablespoons olive oil
1 Granny Smith apple, cored and cut into thin slices
1 cup crumbled gorgonzola cheese
2 cups baby spinach, stems removed and cut or torn into small pieces
Directions:
Preheat oven to 400 degrees F and line a baking sheet with aluminum foil.
Place the naan bread on the foil and drizzle each one with a tablespoon of olive oil.
Lay the thin slices of apple on the naan bread and top with crumbled gorgonzola cheese.
Bake for 5 to 7 minutes until the cheese is melted.
After removing from the oven, top pizzas with baby spinach.
Transfer to a cutting board or plate, cut into pieces and enjoy!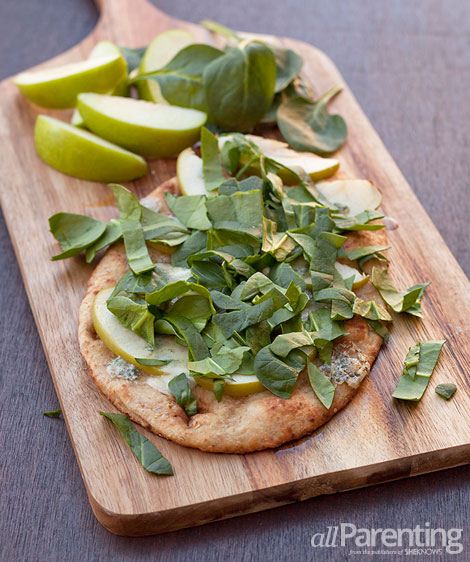 Hungry? Scroll through our delicious recipes!