Posted: Mar 19, 2014 6:00 AM
When it comes to appetizers, you can never go wrong with deep fried cheese. Crispy on the outside, ooey-gooey on the inside… Our mouths water just thinking about these homemade fried mozzarella balls. In addition to being delightfully delicious, they are also pretty easy to make. Fry up a batch today and enjoy!
Appetizers at home are pretty awesome. Some of my favorites include homemade jalapeño poppers and these fried mozzarella balls. Because the dipping and frying ingredients for the two are the same, I usually make them together. Add in some crispy sweet chili wings and french fries and you have a meal of finger foods to enjoy. Just make sure there are plenty of napkins on hand!
Homemade fried mozzarella balls
Makes about 20
Ingredients:
1 (8 ounce) package mozzarella bocconcini balls, drained
2 eggs
1 tablespoon milk
1/2 cup all-purpose flour
1 teaspoon salt
1/2 teaspoon black pepper
1/2 cup breadcrumbs
Peanut oil
Directions:
Place 3 shallow bowls or dipping trays on the counter. In the first one, whip the eggs and milk together. In the second one, combine the flour, salt and pepper. In the last one, add the breadcrumbs.
Dip the mozzarella balls in the egg mixture and then in the flour mixture. Be sure to coat all sides of the balls with both mixtures. Set on a plate and let sit for 10 minutes.
Once again, dip the mozzarella balls in the egg mixture and then dip them in the breadcrumbs. Again, be sure to coat all sides of the balls when dipping. Set on a plate and let sit for 10 minutes.
While the coated mozzarella balls are sitting for the final 10 minutes, fill a skillet with about 2 inches of peanut oil (or vegetable oil). Heat oil over medium heat until a thermometer reads 350 degrees F.
Carefully place the mozzarella balls in the oil and fry until golden brown. This should take a minute or two. Don't leave the cheese in the fryer too long or the cheese will melt out of the coating.
Using a slotted spoon or tongs, carefully remove the fried mozzarella balls from the oil. Let cool for a few minutes before serving. Enjoy your homemade mozzarella balls with ranch dressing, marinara sauce or any other dipping sauce of your choice.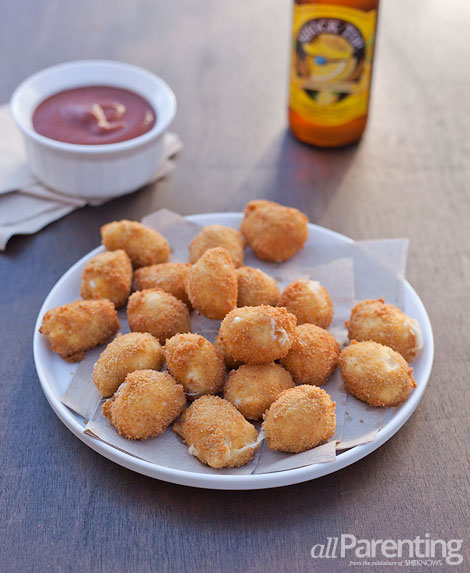 Hungry? Scroll through our delicious recipes!