Posted: Mar 21, 2014 9:00 AM
Your budget might not allow you to take off to Italy right now, but that doesn't mean you can't pretend you're there. With this Tuscan sunset cocktail, you'll get some of the wonderful flavors of Italy that will take you on a mental vacation to this magical place. Cin cin!
Just because you're at home doesn't mean you can't enjoy a drink made with the spirit of Italy in mind. Lucky for you, that's exactly what we have here with this Tuscan sunset cocktail. A combination of gin, Campari, fresh basil and sparkling grapefruit soda, this drink will take you on a relaxing mental vacation.
Campari, a bitter Italian liqueur, is commonly enjoyed as an aperitif or before-dinner drink. A secret mixture of herbs, plants and fruit, Campari can be enjoyed with soda water or mixed into cocktails such as the negroni. While some might not like its bitter flavor, I personally love it — especially when mixed with gin. Speaking of gin, this Tuscan sunset cocktail is great made with both London Dry gins such as Tanqueray as well as American gins like St. George Botanivore and Leopold Bros. Although, if you can get your hands on a bottle of gin made in Italy, that would be ideal. I mean, if you're going to pretend you're in Italy, you might as well drink like it.
Tuscan sunset cocktail
Serves 1
Ingredients:
4 to 5 basil leaves plus a few extra for garnish
2 ounces gin
1 ounce Campari
San Pellegrino Pompelmo (grapefruit) sparkling beverage
Directions:
Add basil, gin and Campari to a cocktail shaker and gently muddle.
Add ice, stir to combine and strain into a rocks glass filled with ice.
Top with San Pellegrino Pompelmo.
Garnish with a few basil leaves and enjoy!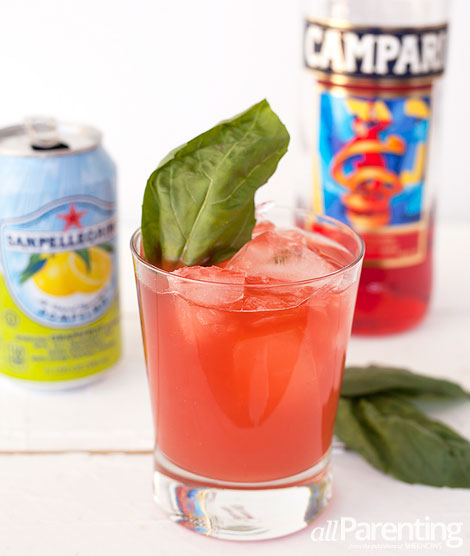 Cheers! We have lots of cocktail recipes!