Posted: Feb 20, 2014 6:00 AM
Healthy and extremely versatile, quinoa has secured a place in our hearts and our dinner plates. Tonight, serve it up a little differently in these crispy quinoa cakes with green chili cilantro sour cream dipping sauce. It's a great vegetarian meal that can be enjoyed any time of the year!
For several years now, quinoa has been gaining in popularity — and for good reason. According to The World's Healthiest Foods, quinoa is a complete protein source, making it a great substitute for meat on the dinner plate. It's also been found to be a good source of vitamins and nutrients.
Health benefits aside, quinoa also tastes great in various dishes. Some of our favorites include quinoa burrito bowls, summer vegetable quinoa salad and of course, these crispy quinoa cakes with green chili, cilantro and sour cream dipping sauce. Serve these up with a simple green salad and you have a vegetarian meal that's perfect any night of the week.
Crispy quinoa cakes
Serves 4
Ingredients:
1/2 cup quinoa
1 cup water or vegetable broth
1/2 cup finely chopped yellow onion
1 clove garlic, finely chopped
1/4 cup chopped cilantro
2 eggs, beaten
1/2 teaspoon salt
3/4 cup breadcrumbs, preferably whole wheat
Olive oil
Directions:
Add quinoa and water or vegetable broth to a small saucepan and bring to a boil. Turn heat to low, cover and cook for 15 minutes. Let cool for 5 minutes, remove the lid and stir with a fork. Set aside and let the quinoa continue to cool.
Sauté yellow onion in olive oil in a small pan over medium heat. Stir occasionally so that the onions don't burn. Cook until soft and translucent. Add garlic and cook for another 30 seconds. Remove from heat and set aside.
Add cooked quinoa, sautéed onions and garlic and cilantro to a small bowl and stir to combine.
Add the 2 beaten eggs and salt to the small bowl and stir until completely mixed in.
Add the breadcrumbs to the bowl and stir. Let the mixture sit for 5 minutes to let the breadcrumbs absorb the mixture. If the mixture seems to have too much liquid, add a little bit more breadcrumbs and mix. If it seems too dry, add a little bit of water and mix.
Heat a tablespoon of olive oil in a large skillet or pan over medium heat. Form the quinoa mixture into small patties. When the oil is hot, place the patties in the skillet so that the pan is full but they are not touching. Cook for 5 to 7 minutes on each side, until brown and crispy on the outside. Using a spatula, flip the patties and cook the other side for another 5 to 7 minutes. Once the patties are done cooking, remove them from the pan and place in a serving dish while you cook the rest of the patties.
Serve the crispy quinoa patties with the green chili cilantro sour cream dipping sauce or other sauce of your choice along with a side salad and enjoy!
Green chili cilantro sour cream dipping sauce
Makes approximately 3/4 cup
Ingredients:
1/2 cup sour cream
1/4 chopped roasted green chilis
1/8 cup chopped cilantro
Directions:
Add all ingredients to a small bowl and stir to combine.
Serve immediately or store in the refrigerator until ready to use.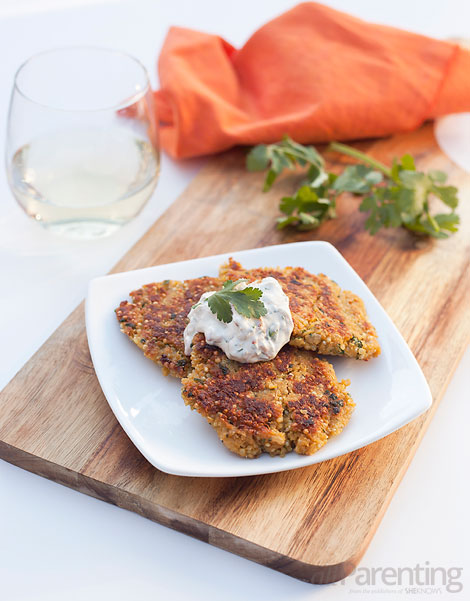 Hungry? Scroll through our delicious recipes!