Posted: Feb 21, 2014 6:00 AM
Ditch the idea that enchiladas have to be made with meat or cheese. We stuffed these vegan enchiladas full of veggies, bundled them up tight and topped 'em with homemade enchilada sauce. Serve with a side of Spanish rice and black beans and you have a vegan meal the whole family will love!
When ordering enchiladas in a restaurant, it seems there are two choices — those stuffed with meat or those filled with cheese. While this might be fine for some, the people who don't eat meat or cheese are left in the dust. Well, not anymore because we have an enchilada recipe that's free of meat and dairy. These delicious vegan enchiladas are filled with sautéed veggies and smothered in homemade enchilada sauce. Served with some fresh guacamole, a side of rice and black beans, it's a filling meal that will leave everyone satisfied.
Be sure to get your homemade enchilada sauce started before making the veggies for the enchiladas. You'll need the sauce to line the pan for the enchiladas before you bake them. Plus, you want the sauce to have plenty of time to simmer so the flavors meld together.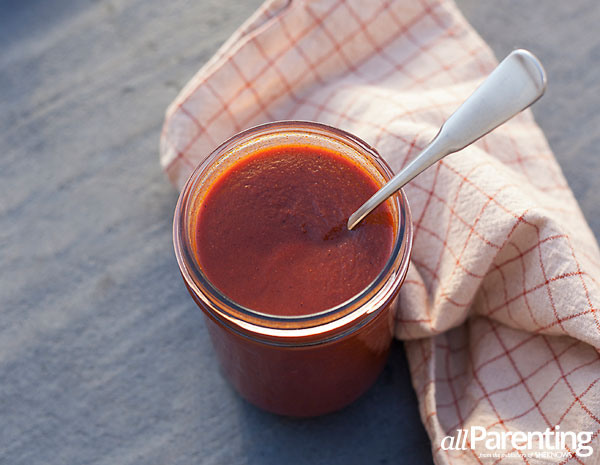 Homemade enchilada sauce
Makes 2 cups
Ingredients:
2-1/2 tablespoons peanut oil (note: other nut oils will work if you don't have peanut oil, but do not use vegetable or olive oil)
1-1/2 tablespoons chili powder
1 teaspoon ancho chili powder
1/2 tablespoon cacao powder (note: this is not sweetened baking cocoa powder)
1/2 teaspoon ground cinnamon
1/4 teaspoon garlic powder
1/4 teaspoon cumin powder
1/8 teaspoon black pepper
1 (15 ounce) can tomato sauce
3/4 cup water
Directions:
Heat peanut oil over medium-high heat in a medium saucepan. Add spices all at once, whisking vigorously.
When mixture thins and bubbles, add tomato sauce. Continue whisking to incorporate all ingredients.
When the sauce starts to simmer, add the water. Return to simmer whisking occasionally.
Add water as necessary to thin sauce, if desired. If you need to thicken the sauce, let it cool to room temperature then bring it back to a simmer allowing steam to escape. Never let it heat to a full boil.
Store remaining sauce in an airtight jar in the refrigerator for a few days or freeze for up to 6 months.
Vegan enchiladas
Serves 4
Ingredients:
1 large bell pepper of any color, seeds removed, quartered and julienned
1 medium yellow onion, quartered and julienned
6 crimini mushrooms, finely chopped
1 cup zucchini, finely chopped
3/4 teaspoon salt
1/3 teaspoon garlic powder
1/4 teaspoon dried oregano
1/8 teaspoon black pepper
Vegetable oil
8 small corn tortillas
Homemade enchilada sauce (recipe below)
Optional: Avocado, cilantro and green onions for topping when ready to serve
Directions:
Preheat oven to 350 degrees F.
Heat 2 tablespoons of vegetable oil in a large skillet over medium heat. Sauté onions, bell pepper and spices and cook until onions are soft and translucent, stirring as needed to prevent burning.
Add mushrooms and zucchini and sauté for another 3 minutes. Add another tablespoon of oil if needed, and continue to stir to prevent burning.
Remove veggie mixture from heat and set aside. Coat the bottom of a small skillet with vegetable oil and place over medium heat. While the oil is heating, coat the bottom of a medium-sized rectangle baking dish with enchilada sauce.
Once the oil is hot, place a tortilla in the skillet and quickly fry on 1 side for 10 to 15 seconds until the tortilla is soft and pliable. Flip the tortilla and quickly fry again on the other side for another 10 to 15 seconds. Transfer the tortilla to a paper towel, lightly dab the grease from the tortilla and then fill it with the veggie mixture. Roll the tortilla tightly and place in the sauce-coated rectangle baking dish. Do this for the remaining tortillas.
Once all of the tortillas have been stuffed, rolled and placed in the pan, spoon the enchilada sauce on top of the tortillas. Make sure to completely cover the tortillas all around the sides with the sauce so that they don't dry out while baking.
Cover the baking dish with foil and bake for 15 minutes. After baking, remove from the oven and let cool for a couple of minutes. Use a spatula to remove enchiladas from the pan, place them on serving plates and top with avocado, cilantro or green onions and enjoy!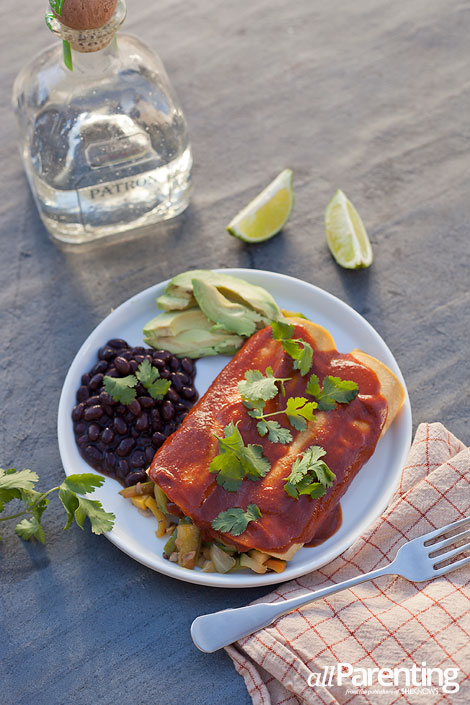 Hungry? Scroll through our delicious recipes!