Posted: Mar 03, 2014 6:00 AM
Cheese, broccoli and rice come together in this comforting vegetarian casserole. Serve it alongside a salad as the entree, or dole it out alongside some grilled chicken or fish to round out the meal.
There are times when nothing but a cheesy, comforting casserole will do. They are the dishes of our childhoods, the ones that seem timeless because our families still beg for them on chilly nights. While most cheesy casseroles involve some variation of canned cream soup, this version opts for an easy homemade cheese sauce that is not only healthier, but is rich with the flavors of Dijon mustard and paprika.
While this dish could easily stand on its own as a vegetarian entree, accompanied by a green salad, it works just as well as a sidekick to baked salmon or a store-bought rotisserie chicken. To make the preparation even easier, cook the rice a day in advance. The moisture from the cheese sauce will make the rice taste as though it was cooked that day. Feel free to substitute cheddar cheese for the Gruyère if you want to avoid an extra trip to the grocery store.
Cheesy broccoli and rice casserole
Serves 6 as side dish
Ingredients:
4 cups cooked brown or white rice (about 1-1/4 cups uncooked)
2-1/2 cups bite-sized broccoli florets
1-1/2 tablespoons olive oil
4 green onions, sliced
2 garlic cloves, minced
1-1/2 tablespoons cornstarch
1-3/4 cups low-fat (1 percent) milk
3/4 cup grated Gruyère cheese
2 tablespoons Dijon mustard
3/4 teaspoon paprika
1/4 teaspoon salt, divided
1/8 teaspoon ground pepper
1/2 cup panko breadcrumbs
2 tablespoons grated Parmesan cheese
1 tablespoon olive oil
Directions:
Preheat the oven to 350 degrees F. Coat a 2-quart oval or round baking dish with cooking spray. Place the cooked rice in a large bowl.
Place the broccoli in a steamer insert set over boiling water in a medium saucepan over high heat. Cover and steam the broccoli until just tender, 2 to 3 minutes. Transfer the broccoli to the bowl with the rice.
Heat 1-1/2 tablespoons of olive oil in a medium saucepan set over medium heat. Add the white and light green parts of the green onions. Set aside the dark green sections. Saute until the onions are tender, 2 to 3 minutes.
Add the garlic and cook for 30 seconds. Whisk in the cornstarch and cook, whisking constantly, for about 2 minutes.
Slowly pour in the milk, whisking constantly. Bring to a simmer and cook until the sauce is thickened, 5 to 6 minutes.
Stir in the Gruyère cheese, Dijon mustard, paprika, 1/8 teaspoon salt and pepper until incorporated into the milk mixture.
Pour the cheese sauce over the rice and broccoli, along with the dark green parts of the green onion, and stir to incorporate.
Transfer the mixture to the prepared baking dish and spread evenly with a spatula.
In a medium bowl, toss together the panko breadcrumbs, Parmesan cheese and 1/8 teaspoon salt. Sprinkle over top of the casserole.
Bake until the breadcrumbs are golden brown, 25 to 30 minutes. Serve.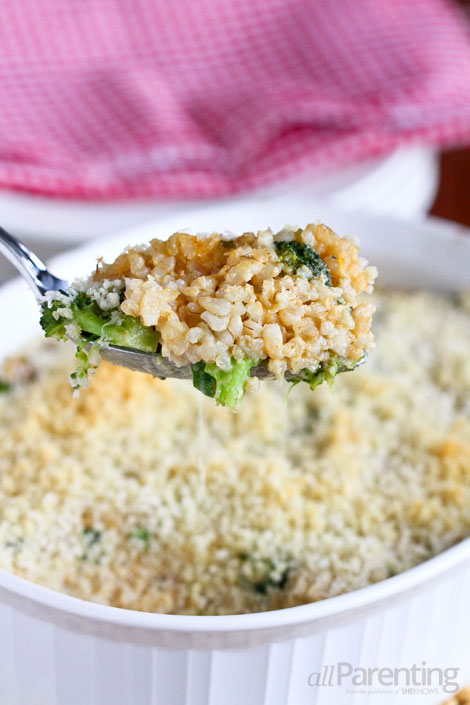 Hungry? Scroll through our delicious recipes!