Posted: Mar 10, 2014 6:00 AM
Let the rich flavors of a good Irish stout permeate through this hearty soup. Cabbage and sausages add flavor and fiber to the tasty broth. Serve alongside Irish soda bread, which is perfect for dipping into the soup.
St. Patrick's Day begs for themed food, such as green-tinged scrambled eggs or Guinness-laced soups and stews, such as Irish stew with lamb, potatoes and carrots. At the risk of sounding "leprechaun unfriendly," the bottle of green food coloring is being tossed in the trash and dark Irish beer is taking on the starring role. While this soup is not necessarily a traditional Irish dish, it uses ingredients that are often associated with Irish cuisine and St. Patrick's Day.
In this soup, sliced sausages are slowly cooked with potatoes and cabbage in a flavorful broth that is spiked with Guinness. The soup is simmered for about an hour so that the potatoes become tender and the flavor of the cabbage mellows enough to satisfy the pickiest eater at the table.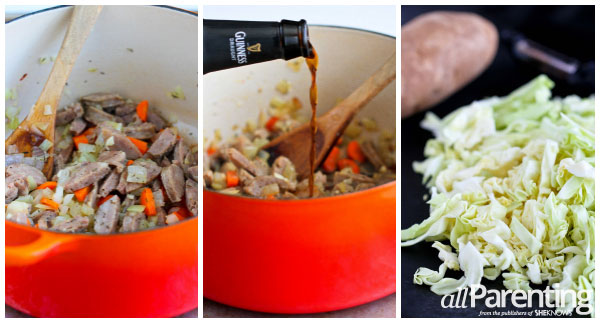 Sausage, cabbage and Irish stout soup
Serves 4 to 6
Ingredients:
3 uncooked sausages, such as bratwurst
2 teaspoons canola oil
1 medium onion, chopped
1 carrot, cut into thin half-circles
2 garlic cloves, minced
3/4 teaspoon dried thyme
1/2 teaspoon ground pepper
3-1/2 cups fat-free beef broth
1 cup Guinness beer
1/2 small green cabbage, roughly chopped (3 cups)
1 russet potato, peeled and cut into 3/4-inch dice
Minced flat-leaf parsley
Directions:
In a large saucepan, bring water to a boil. Add the sausages and cook until the sausages are just cooked through, 8 to 10 minutes. Transfer to a cutting board and cut into thin half-circles.
Heat the canola oil in a large saucepan set over medium-high heat. Add the sausages, onions and carrots. Cook, stirring occasionally, until the onions are tender, 6 to 8 minutes.
Add garlic, thyme and pepper, and cook for 1 minute.
Stir in the beef broth, Guinness beer, cabbage and potato. Bring the soup to a boil, then lower heat to medium-low, partially cover and simmer until the potatoes are tender, 25 to 30 minutes.
Stir in the parsley and serve.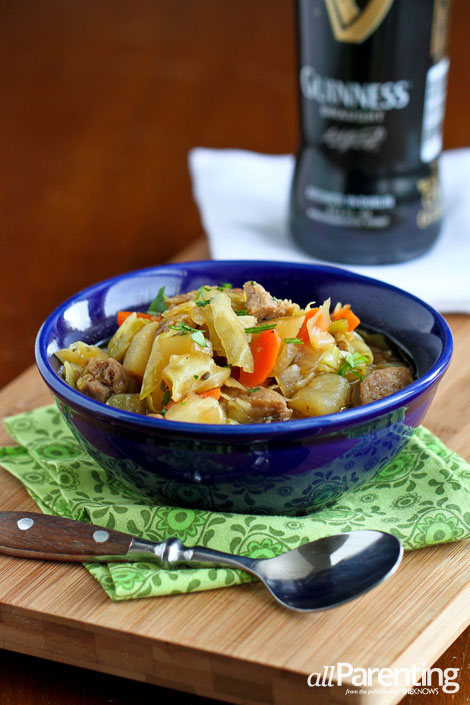 Hungry? Scroll through our delicious recipes!