Posted: Mar 17, 2014 6:00 AM
Baked potatoes are always a crowd-pleaser, but they sometimes need a makeover. Scoop out the potato and mix it with spinach and feta before giving the stuffed potatoes one last turn in the oven.
When you need an easy meal to feed your family, baked potatoes with all the fixings can be a popular option. However, there are only so many dollops of sour cream, bacon bits and green onions that one family can handle. Instead, scoop out the cooked potato from the potato skins and mash it with cream cheese and milk until the mixture is soft and creamy.
Stirring chopped spinach into the potato and topping each stuffed potato with feta cheese is a sure-fire way to slip in some vegetables and introduce your family to new flavors. When baked again, the cream cheese in the mashed potatoes makes the mixture creamy and cheesy, and the potato skins become slightly crispy.
Feel free to replace the feta cheese with cheddar or pepper jack cheese if your family prefers those flavors.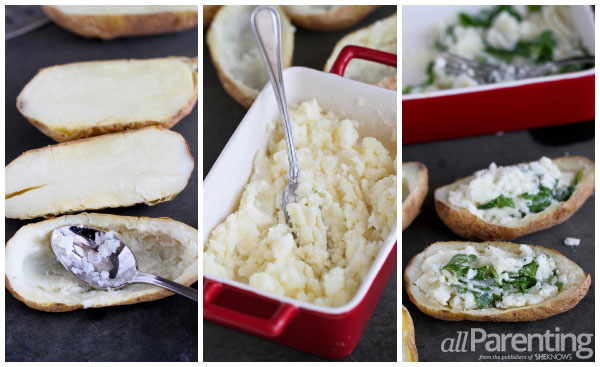 Spinach- and feta-stuffed potatoes
Serves 4
Ingredients:
4 small russet potatoes
2 tablespoons cream cheese
5 tablespoons skim milk
1/4 teaspoon salt
1/4 teaspoon ground pepper
1-1/2 cups (packed) fresh spinach, chopped
1/4 cup crumbled feta cheese
Sliced green onions, for garnish
Directions:
Preheat oven to 400 degrees F.
With a fork, pierce each potato in several places. Microwave until tender when pierced with a fork, about 12 minutes, turning halfway through.
When the potatoes are cool enough to handle, cut in half lengthwise. Scoop out the flesh, leaving a 1/4-inch border and transfer the flesh to a medium-sized bowl.
Add the cream cheese and skim milk to the bowl with the potato and mash with a potato masher.
Stir the salt, pepper and chopped spinach into the potato mixture.
Place the potato skins on a baking sheet and divide the potato mixture evenly between the skins. Divide the feta cheese between the stuffed potatoes.
Bake the potatoes until the cheese is melted and the skins are slightly crisp, about 15 minutes.
Garnish with green onions. Serve.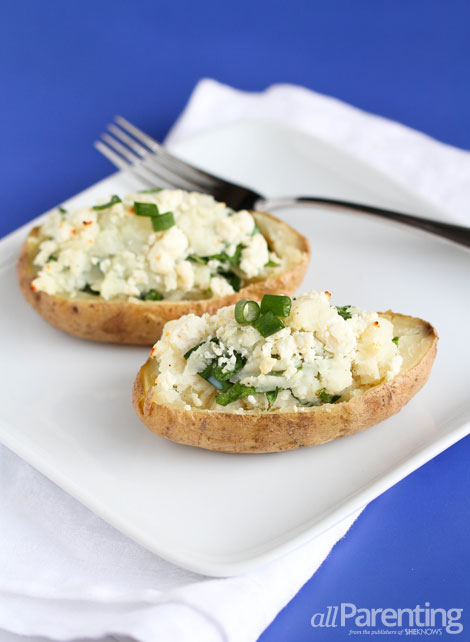 Hungry? Scroll through our delicious recipes!