Posted: Mar 24, 2014 6:00 AM
This classic-turned-light appetizer does not disappoint. The shrimp are coated in a savory coconut crust and baked until golden brown and crispy. These are perfect for feeding a crowd or easing into a romantic meal.
The crunchy texture of fried food can make it irresistible, but "fried" can turn into "light" with a few simple changes. There is no need to sacrifice that distinctive crunchy texture when making a popular appetizer such as coconut shrimp. Using a few tricks of the trade, such as coarse panko breadcrumbs and a hot oven, makes the process foolproof.
Coconut shrimp is an appetizer that embraces the sweet and savory concept. Be sure to buy plump, large or jumbo shrimp so that the coating doesn't overwhelm the taste and texture of the shrimp. Panko breadcrumbs can be found in the baking aisle of most supermarkets, next to the containers of regular breadcrumbs.
Choose a dipping sauce that appeals to you. Some good choices are Chinese duck sauce (a pineapple and apricot base), spicy mustard and jalapeno jelly.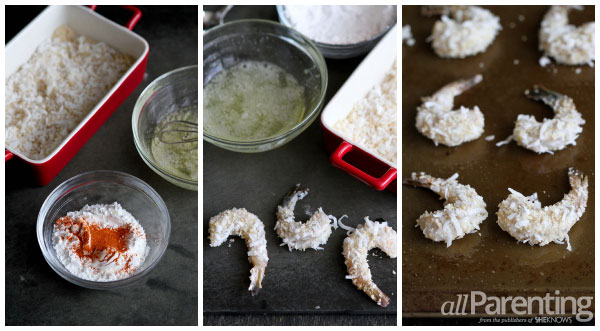 Baked coconut shrimp
Makes 12 appetizers
Ingredients:
1 pound large or jumbo shrimp, peeled, tails left intact
1/4 cup cornstarch
1/8 teaspoon cayenne pepper
2 egg whites
1/4 cup panko breadcrumbs
1/3 cup shredded coconut
1/2 teaspoon salt
1/2 teaspoon ground pepper
Cooking spray
Chopped parsley, for garnish
Duck sauce, spicy mustard or jalapeno jelly, for serving
Directions:
Preheat the oven to 425 degrees F. Lightly coat a baking sheet with cooking spray.
In a small bowl, stir together the cornstarch and cayenne pepper. In another bowl, whisk the egg whites until frothy. In a third bowl, mix together the breadcrumbs, coconut, salt and pepper.
Working with 1 shrimp at a time, dredge the shrimp in the cornstarch mixture, shaking off the excess. Next, dip the shrimp in the egg whites. Last, roll the shrimp in the breadcrumb mixture, lightly pressing the mixture onto the shrimp.
Lay each shrimp on the prepared baking sheet. Bake until the crust is light golden brown and the shrimp are opaque, 3 to 4 minutes per side.
Garnish with parsley and serve with the sauce.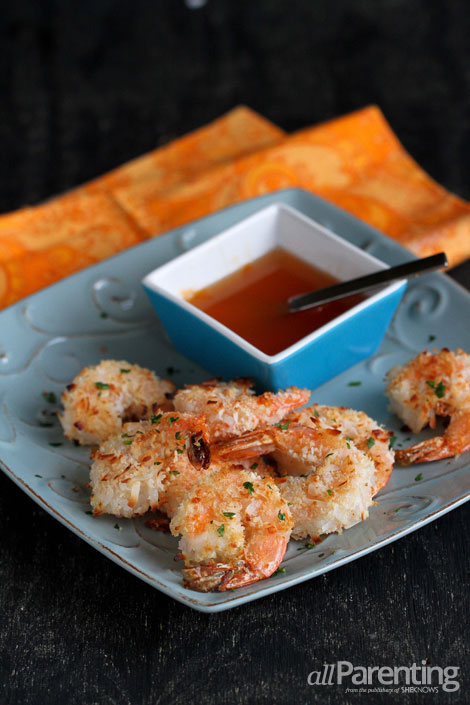 Hungry? Scroll through our delicious recipes!