Posted: Mar 21, 2014 6:00 AM
Whip up a quick and healthy dinner with savory store-bought basil pesto and cheese tortellini. Toss in some vegetables and chopped rotisserie chicken to round out the meal.
When you are involved in organizing multi-child carpools to soccer practice, karate class and drill team practice, the last thing you have on your mind is a healthy dinner. It just takes too long, right? Wrong! This is where fresh pasta, store-bought pesto sauce and a rotisserie chicken come to the rescue. It's as though they should each be wearing mini superhero capes.
The beauty of this recipe is that it can be enjoyed hot, straight from stove top to table, or cold, like any pasta salad. In other words, it can be made at the last minute or up to a day in advance. It's a meal that kids love, that packs a dose of vitamin-rich vegetables and requires very little thought or effort. Pesto pasta to the rescue!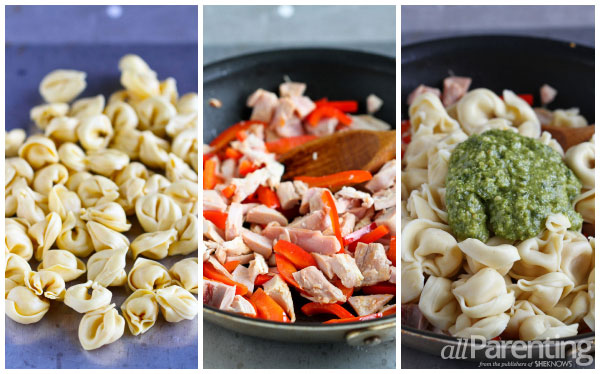 Cheese tortellini with basil pesto
Serves 4
Ingredients:
1 (9 ounce) package cheese tortellini
1 teaspoon olive oil
1 red bell pepper, thinly sliced
1-1/2 cups chopped rotisserie chicken
1/4 cup + 2 tablespoons basil pesto
1/4 teaspoon ground pepper
Salt, if needed
Grated Parmesan cheese for serving
Directions:
Cook the tortellini according to package instructions. Drain.
While the tortellini is cooking, heat the olive oil in a large skillet set over medium heat. Add the red pepper and cook until just starting to soften, about 2 minutes.
Add the chicken to the skillet and cook until heated through, 1 to 2 minutes.
Add the cooked tortellini, basil pesto and pepper to the pan. Stir until the tortellini is coated with pesto and the mixture is heated through. Taste and add salt, if needed.
Serve with the Parmesan cheese.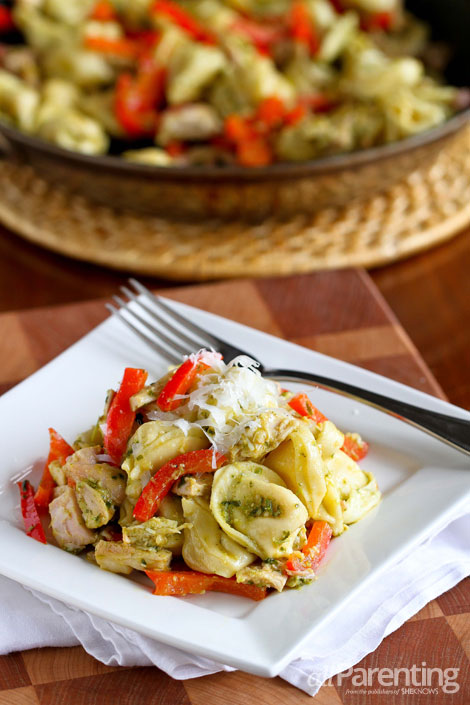 Hungry? Scroll through our delicious recipes!