Posted: Apr 09, 2014 6:00 AM
If you can't escape on a tropical vacation right now, you can at least pretend with this pineapple rum cake with dark rum glaze. The sweetness of the pineapple combined with the spiciness of the rum… These are the flavors vacations and memories are made of.
Pineapple and rum have a long-standing relationship. We've all had a pina colada, right? Thankfully, the perfect harmony of these ingredients also carries over to this pineapple rum cake. Chunks of pineapple are soaked in a dark rum brown sugar mixture before being added to the cake batter and baked to perfection. Drizzle each slice with a bit of the dark rum glaze and you are good to go.
Pineapple rum cake
Serves 8 to 12
Ingredients:
1/2 cup dark rum
1/4 cup firmly packed brown sugar
2 tablespoons unsalted butter
1 cup chopped pineapple
1-1/2 cups all-purpose flour
2 teaspoons baking powder
1/4 teaspoon salt
3/4 cup unsalted butter, room temperature
1 cup sugar
2 eggs
2 tablespoons dark rum
1/2 cup unsweetened pineapple juice
Directions:
Preheat oven to 350 degrees F and grease an 8- or 9-inch round cake pan with butter and lightly dust with flour. Discard excess flour and set aside.
In a small saucepan, combine 1/2 cup dark rum and brown sugar over medium heat. Stir to combine. Once the brown sugar is melted, add in 2 tablespoons of butter. Continue to stir until the butter is melted. Add the pineapple, turn the heat down to low and let this simmer while you make the cake batter.
In a small bowl, combine flour, baking powder and salt. Set aside.
Add 3/4 cup butter and sugar to a large bowl and beat until creamy.
Beat in the eggs, 1 at a time. Then add the 2 tablespoons of dark rum and beat to combine.
Add 1/2 of the flour mixture and beat until just combined. Pour in the pineapple juice, beat to combine and then add the remaining flour mixture. Beat until just combined, scraping the sides as needed.
Turn the heat off of the small pan on the stove. Using a slotted spoon, scoop the pineapple chunks out of the rum brown sugar glaze and add them to the cake batter. Using a spoon or a spatula, stir to combine. Keep the glaze in the small pan as you'll use this for the cake once it's ready to eat.
Pour the cake batter into the prepared cake pan and bake for 30 to 35 minutes, or until golden and a cake tester inserted in the middle comes out clean.
Let the cake cool for 5 minutes on a wire rack. Remove cake from pan and transfer to a large plate or a cake stand. Let cool completely.
When ready to serve, reheat the rum glaze and spoon it over the pineapple rum cake. Store leftover rum glaze in the fridge, and reheat on the stove as needed.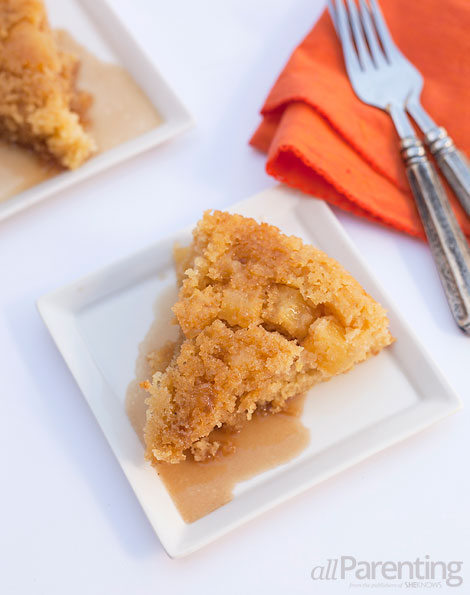 Cure your sweet tooth with endless dessert ideas!