Posted: Apr 07, 2014 6:00 AM
When you are cooking on a budget, pork chops are the superheroes of the meat section. Elevate this standard cut of meat by simmering it with tomatoes and adding the briny taste of olives.
This recipe will make your family finally fall in love with pork chops. Searing the pork chops in a hot pan and then gently simmering in a quick homemade tomato sauce will produce tender, flavorful meat in a matter of minutes. The trick is to buy thin-cut, bone-in pork chops and to avoid overcooking the meat. They cook quickly, so don't be tempted to leave them on the stovetop for too long.
For the sauce, lightly caramelized onions simmer with diced tomatoes, oregano and garlic for maximum flavor in a short period of time. Toss in some quartered kalamata olives for a touch of brine and a Greek flair.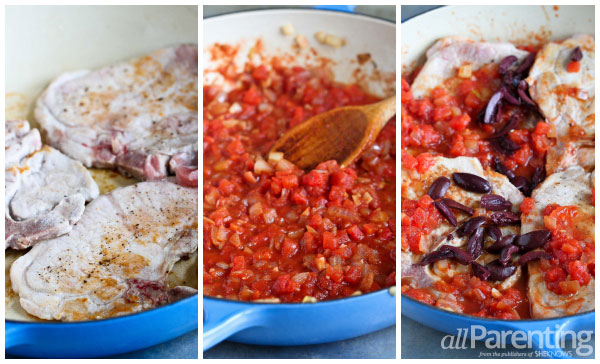 Braised pork chops with tomatoes and olives
Serves 4
Ingredients:
4 thin bone-in pork chops (about 1-1/2 pounds)
1/2 teaspoon salt
1/2 teaspoon ground pepper
2 to 3 teaspoons canola oil
1 medium onion, chopped
1/2 teaspoon dried oregano
2 garlic cloves, minced
1 (28 ounce) can petite diced tomatoes
1/4 cup quartered kalamata olives
3 tablespoons minced flat-leaf parsley
Salt and pepper, if needed
Directions:
Season the pork chops with the salt and pepper.
Heat 1 teaspoon canola oil in a large nonstick skillet over medium-high heat. Add the pork chops in a single layer. If there is not enough room for all of the pork chops, cook in 2 batches, using another 1 teaspoon canola oil.
Cook until the pork chops are golden brown and just cooked through, about 3 minutes per side. The pork chops should have an internal temperature of approximately 155 degrees F. Transfer the pork chops to a plate.
Reduce the heat to medium and add 1 teaspoon canola oil. Add the onion and cook, stirring occasionally, until the onions are tender and light golden brown.
Add the oregano and garlic, and cook for 1 minute.
Stir in the diced tomatoes and simmer for 10 minutes. Add the pork chops and any accumulated juice to the pan, along with the kalamata olives. Cook until heated through. Stir in the parsley. Serve.
Hungry? Scroll through our delicious recipes!