Posted: Apr 10, 2014 6:00 AM
While the bunny may take the cake when it comes to this holiday, dessert ideas that are almost too cute to eat are certain to steal the spotlight. From Easter bark to Easter treats shaped like a bunny's tail-end, sink your teeth into these adorable Easter dessert ideas.

Easter bark
Your guests will never be able to resist such a festive Easter dessert like Mix and Match Mama's Easter Bark. Full of the colors and flavors of the season, this holiday dessert idea makes a great gift, too!
Ingredients:
1 package white chocolate candy coating
1/2 cup shredded coconut
1/2 cup Easter M&M'S
Easter sprinkles
Jelly beans
Directions:
First, melt white chocolate coating in a microwavable bowl, stopping to stir every 45 seconds.
Once melted, pour over a cookie sheet lined with wax paper.
Then, immediately top with coconut, M&M'S, sprinkles and jelly beans and slightly press into chocolate.
Now refrigerate at least 1 hour.
Finally, pull from fridge, break into pieces with your hands. Done!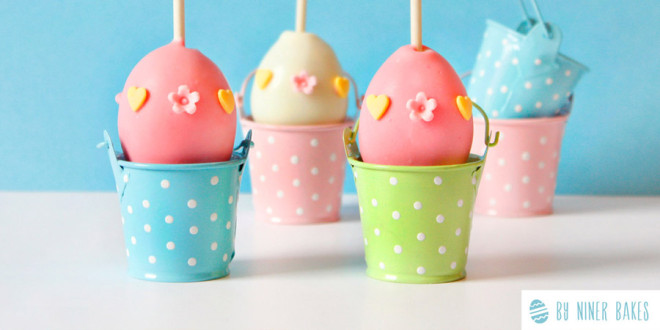 Simple Easter egg cake pops
Skip the same boring cake pops and surprise your family and guests with these Oreo no-bake holiday desserts from Niner Bakes!
Ingredients:
1 package Oreo cookies, or for Europeans: 3 and a half packages of 176 grams
1 (8 ounce) package cream cheese (I use 176 gram packages, 6.2 ounces)
Lollipop sticks
Candy melts (color of your choice)
Sugar heart sprinkles or any other sprinkles of your choice for decorating
Sugar icing flowers for decorating (or make your own fondant/gumpaste flowers)
Parchment paper (for cake pops to dry)
Toothpicks
Tweezers
Directions:
First, make the no-bake cake pops: Grind your Oreo cookies to fine crumbs in a food processor.
Then put the crumb mix into a bowl and hand mix with cream cheese. Keep in mind that the dough should have the consistency of play dough.
Next, roll the dough into egg shapes, then refrigerate them for at least 10 minutes to firm up.
Now melt your candy melts (color of your choice, pastel colors are perfect for Easter). If your candy melts are too thick, add just a little bit of vegetable oil to it.
Then dip a little bit of the lollipop stick into the melted candy and stick the lollipop stick in the cake pop's top (halfway). Let the pops rest a bit on a sheet of parchment paper so the candy melts set within the cake pop.
Next, dip the cake pop in the candy melts, shake off all the excess and then place the cake pop on your sheet of parchment paper to dry. Repeat with all cake pops.
Now it is time to decorate your Easter cake pops. Attach small hearts and flowers using tweezers to your cake pop, and use candy melts as glue. Repeat this step with all of your cake pops. You can take any sprinkles etc. to decorate your very own personal Easter cake pops.
Finally, when you are done decorating and when cake pops are dry, you can place them in tiny buckets filled with regular sugar. That gives them a cute look on your Easter table.

Homemade Cadbury eggs
Way better than store-bought Easter treats, these homemade Cadbury eggs by The Hungry Mouse are the sweet addition to your Easter spread!
Ingredients:
1/2 cup Lyle's golden syrup (or Karo light corn syrup)
6 tablespoons butter, softened
1 teaspoon vanilla extract
3 cups confectioners' sugar (a.k.a. powdered sugar)
1/2 teaspoon yellow food coloring
12 ounces dark chocolate chips
Directions:
First, let butter soften at room temperature for 30 minutes and toss it in the bowl of your stand mixer (or in a large mixing bowl if you're beating by hand).
Next, add the golden syrup or corn syrup.
Then, toss in the vanilla extract. Want to flavor your eggs? Substitute mint extract, maple extract, a little rum, etc., if you'd like.
Now add the confectioners' sugar.
Next, stir it around with your paddle to start to incorporate it — it helps avoid a big poof of powdered sugar when you turn on the mixer. Beat on medium for a minute or 2 until the mixture is uniform and fluffy, something akin to soft play dough.
Then round up your butter and sugar paste and remove about a third of it and stick it in a separate bowl.
Now add the yellow food coloring and mash it around until you're happy with the color of your yolks. Put the divided filling into the freezer for about 10 minutes. The goal is to get it to firm up enough to be easy to roll into balls — not freeze it solid. If it doesn't immediately stick to your finger, you should be good to go.
Next, to make each yolk, measure out a rough teaspoon of yellow filling and roll it into a ball between your palms.
Then set the ball on a sheet pan lined with parchment paper. Repeat with the rest of the yellow filling until you have a nice little army of glorious candy yolks. Stick the pan in the freezer to firm up while you deal with the whites.
Next, measure out a rough tablespoon of the white filling and roll it between your palms to form a ball. Set on a sheet pan lined with parchment paper and repeat until you have rolled all your whites. (Make sure you have a white for each yolk you rolled.) Set your whites in the freezer for about 10 minutes to firm up.
Then grab both pans out of the freezer. Press your thumb into the middle of 1 of the whites to make a nice little nest for the yolk, nestle a yolk in the depression and then smoosh the white around the yolk until it's completely enclosed. Roll the finished egg between your palms again to make it roughly egg shaped. Set it back on 1 of your parchment-lined pans. Repeat with the rest of the filling until you've used it all and pop the tray into the freezer for 15 minutes.
Now melt your chocolate chips in the microwave in 30-second bursts, stirring well each time. When you're ready to dip your eggs, stick a toothpick pretty deeply into 1.
Finally, roll it around in the melted chocolate, covering the entire filling, glop off some of the extra chocolate so you have a relatively even coating and stick the toothpick into a squash or other large, stable veggie so the chocolate can cool and preserve the round shape. Repeat with the rest of your eggs until you've coated them all in chocolate and pop them into the fridge or freezer until the chocolate sets up. Store them in the fridge.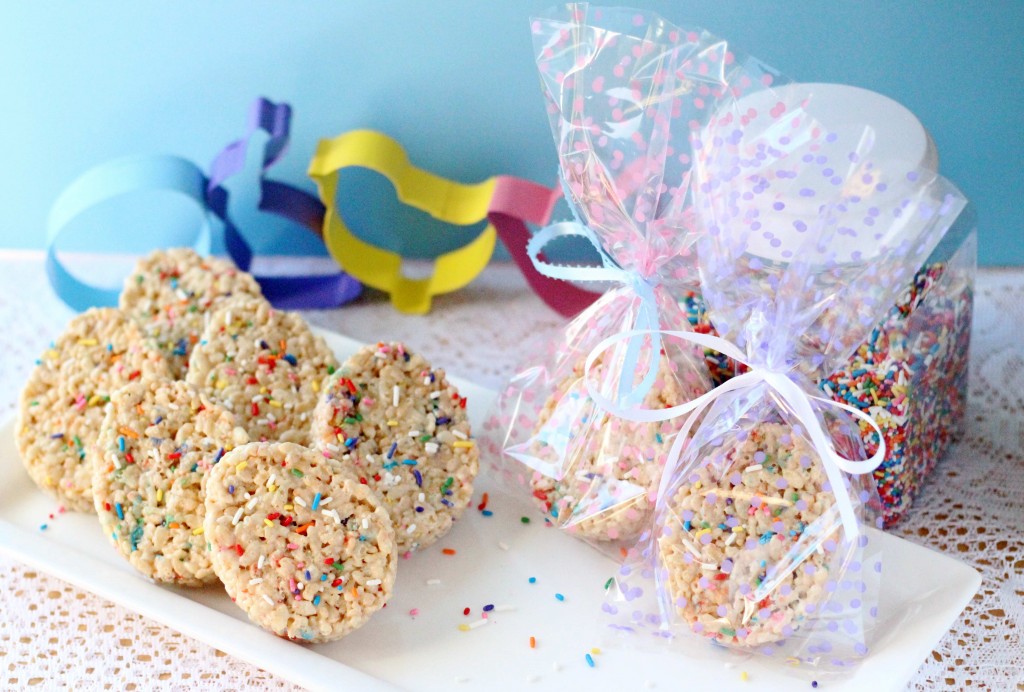 Photo credit: yourcupofcake.com
Cake mix Rice Crispy treat Easter eggs
Blocky Rice Crispy treats take new shape with Your Cup of Cake's cute twist on the popular dessert idea at your Easter celebration!
Ingredients:
1 bag miniature marshmallows
1 teaspoon vanilla extract
1 tablespoon butter
1/3 cup dry yellow cake mix
6 cups rice puff cereal
1/4 cup sprinkles (4 tablespoons)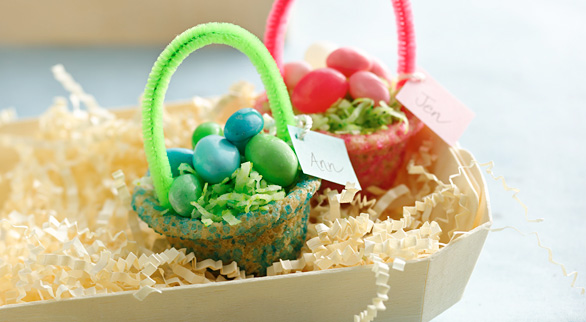 Easter basket cookies
Filled with edible fun and much cuter than its wicker sister, Tablespoon's adorable Easter Basket cookies are almost too adorable to eat!
Ingredients:
1 pouch (1 pound 1-1/2 ounces) Betty Crocker sugar cookie mix
1 tablespoon Gold Medal all-purpose flour
1/3 cup butter or margarine, softened
1 egg
1 bottle (2-1/4 ounces) Betty Crocker(r) pink or blue colored sugar
1 container (12 ounces) Betty Crocker(r) Whipped fluffy white frosting
2 cups flaked coconut
Food colors
Assorted jelly beans
Pipe cleaners
1/4-inch pastel ribbon
Visit tablespoon.com for cooking instructions >>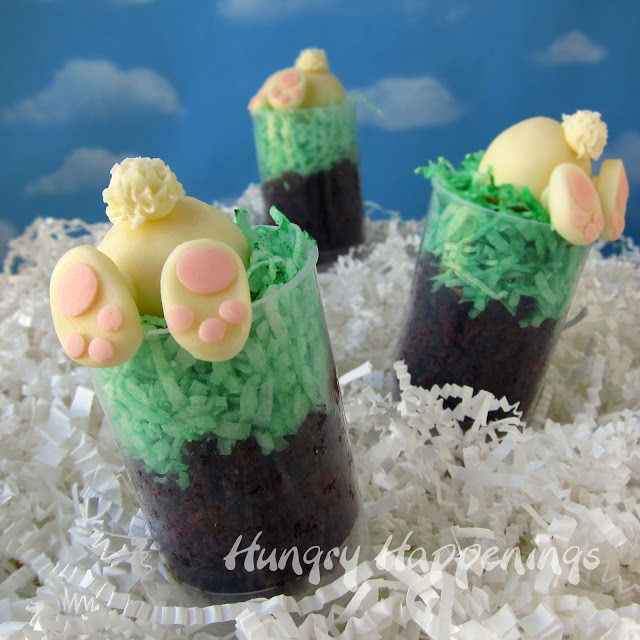 Photo credit: hungryhappenings.com
Down the bunny hole push-up pops
What's more lovable than an Easter Bunny's cotton tail? Not much, especially when you serve up Hungry Happenings' Easter desserts!
Ingredients:
1 recipe white modeling chocolate
Pink candy coloring
Powdered sugar to dust work surface
Corn syrup to "glue" the modeling chocolate pieces together
12 chocolate cupcakes (or 1 8-inch cake)
1 cup chocolate frosting
1 cup sweetened coconut*
Green food coloring
Read more Easter recipes
Easter ham with orange and brown sugar glaze
3 Bellini recipes for brunch
Unique sugar-free Easter treats