Posted: Apr 21, 2014 6:00 AM
If your family loves tacos, try this version out on them. Ground turkey is spiced with an easy homemade taco blend and tucked inside of lettuce wraps for a fun eat-with-your-hands meal.
Tacos are one of the most appreciated meals of busy parents. Cook up some ground meat, add the taco seasoning and pile the mixture into taco shells, along with grated cheese, lettuce and salsa. Dinner accomplished. Then again, why not switch things up by substituting the taco shells with lettuce wraps and whipping up an easy and healthier homemade taco seasoning? The kids will get a kick out of eating their salad in the form of a meat-filled wrap.
Butterhead lettuces, which include Boston and bibb varieties, are the best lettuces to use for wraps. The cup-shaped leaves hold fillings easily, and the taste is slightly sweet with a tender texture. There are no peppery or bitter flavors that may cause kids to turn up their noses. Just wash the leaves, pile them on a plate in the middle of the table and let everyone help themselves.
Provide bowls of grated cheese, guacamole or avocado slices, salsa and sour cream, and let each person customize their lettuce wraps to their heart's content.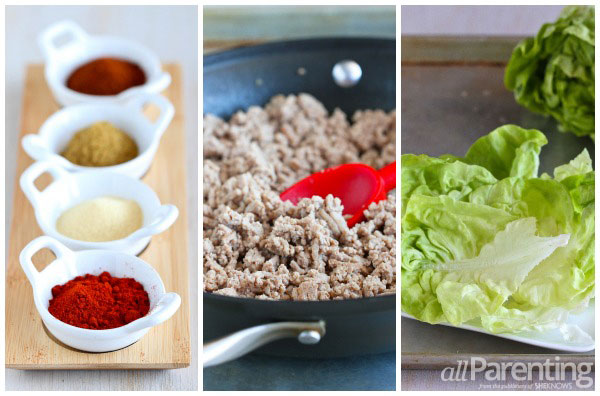 Taco lettuce wraps
Serves 4
Ingredients:
The seasoning:
1 tablespoon chili powder
1 tablespoon ground cumin
1 teaspoon paprika
1/2 teaspoon garlic powder
1/2 teaspoon salt
1/2 teaspoon ground pepper
The tacos:
1-1/4 pounds ground turkey
1/2 cup chicken broth
1 head butter lettuce
Grated cheddar cheese
Minced cilantro
Salsa
Directions:
The seasoning:
In a small bowl, stir together the chili powder, cumin, paprika, garlic powder, salt and pepper.
The tacos:
Heat a large nonstick skillet over medium-high heat and lightly coat with cooking spray. Add the ground turkey and cook, crumbling with a wooden spoon, until cooked through.
Add the seasoning mixture and chicken broth to the ground turkey, and stir to combine.
Serve the ground turkey with the lettuce leaves, cheddar cheese, cilantro and salsa.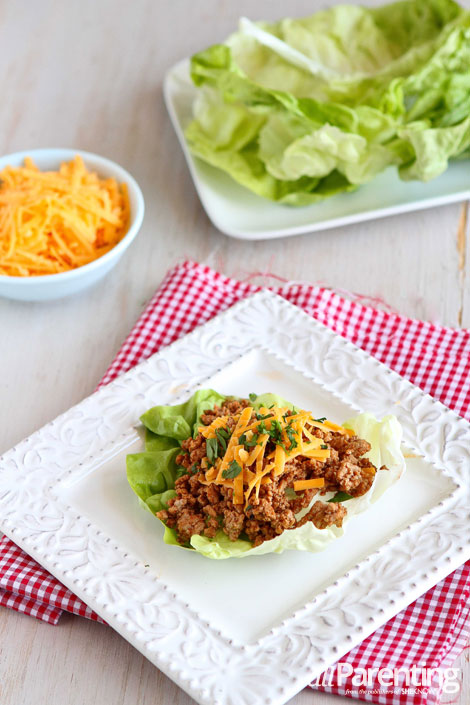 Hungry? Scroll through our delicious recipes!