Posted: Apr 28, 2014 6:00 AM
There's nothing like a good cut of marinated meat to make a dinner salad anything but mundane. Add some fresh asparagus for a taste of spring.
The weather is warming up, which means one thing when it comes to cooking dinner. That's right, it is time to fire up the grill. Cooking a meal on the barbecue is not only quick and easy, but the clean-up is a breeze. Whip up this quick marinade in the morning and let the steak rest in it all day, soaking up the flavors of the crushed rosemary, garlic and balsamic vinegar.
Shortly before dinnertime, cook the steak on the barbecue, followed by the asparagus. The dressing can be whisked, the lettuce torn and the red bell pepper chopped while the steak is cooking to medium-rare perfection. If there is some steak left over, tuck it inside of a wrap sandwich the next day, with some store-bought pesto and fresh vegetables.
Grilled flank steak and asparagus salad
Serves 6
Ingredients:
The steak:
1/4 cup + 1 tablespoon balsamic vinegar
2 tablespoons canola oil
1-1/2 teaspoons crushed rosemary
3/4 teaspoon salt
3/4 teaspoon ground pepper
3 garlic cloves, sliced
1 (1-1/2 pound) flank steak
The asparagus:
1 pound asparagus spears, tough ends removed
2 teaspoon olive oil
1 teaspoon balsamic vinegar
1/4 teaspoon salt
1/4 teaspoon ground pepper
The dressing:
3 tablespoons balsamic vinegar
1 teaspoon Dijon mustard
1 teaspoon agave nectar or honey
1/2 teaspoon crushed rosemary
Pinch of salt and pepper
2 tablespoons extra virgin olive oil
The salad:
6 cups torn romaine or green leaf lettuce
1 red bell pepper, thinly sliced
Directions:
The steak:
In a large glass baking dish, whisk together the balsamic vinegar, canola oil, rosemary, salt and pepper. Add the garlic. Add the flank steak and turn to coat. Cover and refrigerate for 8 hours or overnight.
Preheat the grill to medium heat. Cook until the flank steak reaches the desired degree of doneness, about 6 to 7 minutes per side for medium-rare. Let the steak rest for 10 minutes before slicing thinly.
The asparagus:
In a medium dish, toss the asparagus with the olive oil, balsamic vinegar, salt and pepper. Grill until the asparagus is just tender, about 4 minutes. Cut into 1-inch pieces.
The dressing:
In a small bowl, whisk together the balsamic vinegar, mustard, agave (or honey), rosemary, salt and pepper. Slowly whisk in the olive oil until combined.
The salad:
Divide the lettuce and red bell pepper between 6 plates. Top each salad with asparagus and steak slices, and drizzle the dressing over top. Serve.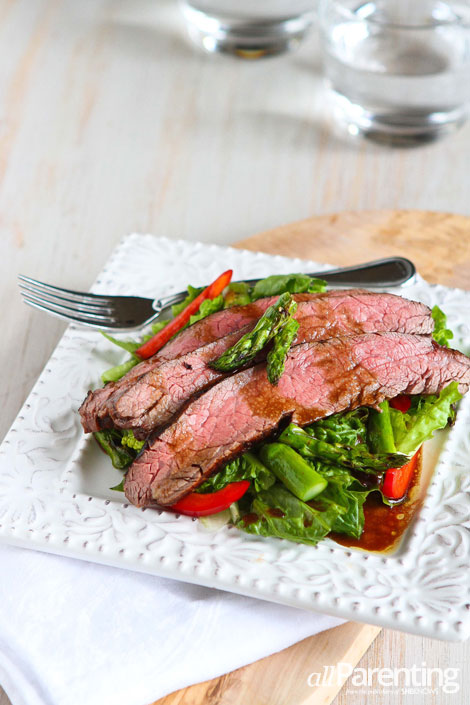 Hungry? Scroll through our delicious recipes!