Posted: Apr 25, 2014 6:00 AM
Cinco de Mayo is just around the corner and it is time to start planning a fresh feast, starring fish tacos with a honey-lime slaw and a chipotle yogurt sauce.
There is no better reason to mix up a pitcher of margaritas, and set out bowls of guacamole and salsa than a Cinco de Mayo celebration. These fresh and flavorful fish tacos, with a healthy dose of smoky chipotle sauce and fresh slaw, can take center stage. To offset the smoky spiciness of the chipotle pepper and adobo sauce, a touch of tangy lime and sweet honey are added to the slaw.
Tilapia is used in this recipe, but any firm white fish, such as mahi mahi or halibut, can be used. Adjust the cooking time as necessary for thicker fillets. For an extra pop of color, substitute half of the green cabbage with 1 cup of shredded red cabbage.
Chipotle peppers are sold in cans, in adobo sauce, and can be purchased in most supermarkets.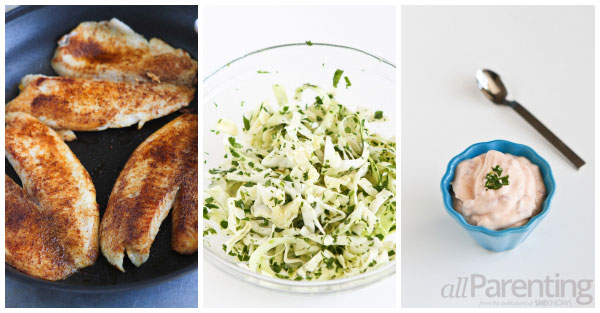 Tilapia soft tacos with honey-lime slaw
Serves 4
Ingredients:
The tilapia:
3/4 teaspoon ground coriander
3/4 teaspoon ground cumin
1 teaspoon chile powder
1/2 teaspoon salt
4 fillets (4 ounces each) tilapia
1 tablespoon canola oil
The slaw:
2 cups shredded cabbage
1/4 cup chopped cilantro
2 tablespoons fresh lime juice
2 teaspoons honey or agave nectar
Pinch of salt
The sauce:
1/4 cup mayonnaise
1/4 cup plain Greek yogurt
1 tablespoon milk
1 chipotle pepper, seeded and minced
1 teaspoon adobo sauce (from the chipotle can)
Pinch of salt
The tacos:
Directions:
The tilapia:
In a small bowl, stir together the coriander, cumin, chile powder and salt. Rub the spice mixture over both sides of the tilapia.
Heat the canola oil in a large nonstick skillet set over medium-high heat. Add the tilapia and cook until the fish is just opaque, about 3 minutes per side.
Remove the fish from the skillet, let cool slightly and gently pull apart with your hands.
The slaw:
In a medium bowl, toss together the cabbage, cilantro, lime juice, honey and salt.
The sauce:
In a small bowl, whisk together the mayonnaise, Greek yogurt, milk, chipotle pepper, adobo sauce and salt.
The tacos:
Working with half of the tortillas, lay the tortillas between 2 pieces of paper towels that were heated in the microwave for about 20 seconds. Repeat with the remaining tortillas.
Fill each tortilla with tilapia and slaw. Dollop some of the sauce on each taco. Serve.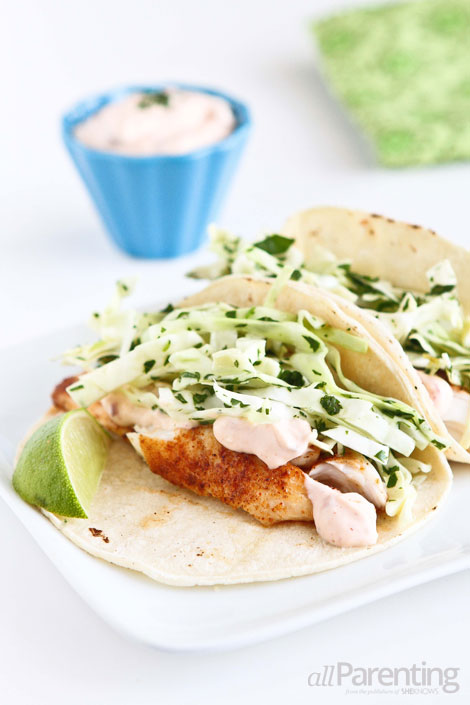 Hungry? Scroll through our delicious recipes!