Posted: May 08, 2014 6:00 AM
Craving something sweet and citrusy for dessert? You're in the right place. This lemon white chocolate Bundt cake is packed full of fresh lemon juice and zest along with a healthy dose of white chocolate chips to satisfy your cravings.
Put down the cookie dough and enjoy something different for dessert tonight with this lemon white chocolate Bundt cake. Made with lemon zest and white chocolate chips and drizzled with a lemon glaze, this is one dessert you'll definitely be making again and again — and again.
Lemon white chocolate Bundt cake
Serves 16
Ingredients:
2-1/2 cups all-purpose flour
1 teaspoon baking powder
1/2 teaspoon salt
1 cup (2 sticks) unsalted butter, room temperature
1 cup sugar
3 eggs
1 teaspoon vanilla extract
Zest from 3 lemons
1-1/3 cups buttermilk
1 cup white chocolate chips
1 cup powdered sugar
3 to 4 tablespoons lemon juice
Directions:
Preheat oven to 350 degrees F and grease and flour a Bundt cake pan.
Combine flour, baking powder and salt in a small bowl and set aside.
Beat butter and sugar in a large bowl until creamy.
Beat in eggs, 1 at a time.
Add vanilla extract and lemon zest and beat.
Gradually beat in the flour mixture and buttermilk, alternating between the 2 (add a small scoop of the flour mixture and beat, then add some buttermilk and beat, continuing until both are fully added and incorporated into the mixture).
Stir in the white chocolate chips.
Pour the cake mixture into the prepared Bundt cake pan.
Bake for 50 to 55 minutes, or until a cake tester inserted in the middle comes out clean.
Cool in the pan for 10 minutes. While the cake is cooling, combine powdered sugar and lemon juice in a small bowl with fork.
After the cake has cooled for 10 minutes, poke holes in the cake using a small wooden dowel or a large fork and pour half of the lemon glaze over the cake. Let cake sit for 5 minutes and then invert onto a plate or cake stand.
Poke more holes in the top of the cake and drizzle with the remaining lemon glaze.
Cut the cake into equal slices, serve and enjoy!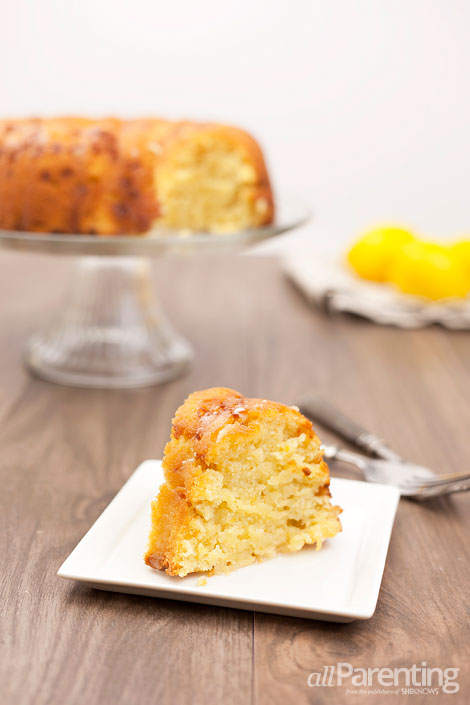 Cure your sweet tooth with endless dessert ideas!