Posted: May 14, 2014 6:00 AM
Think mac and cheese is just for kids? Think again. Made with truffle butter, cheddar and gruyere cheese and pasta, this truffle mac and cheese will quickly become your favorite comfort food. Trust us on this one.
Mac and cheese is the ultimate comfort food. Pasta smothered in cheese sauce... Mmm... Our mouths water just thinking about it. But add in savory truffle butter and your childhood treat becomes a guilty pleasure. While the kids might also enjoy this truffle macaroni and cheese, we won't blame you for not wanting to share. It's that good.
Truffle macaroni and cheese
Serves 6
Ingredients:
Water
1/2 pound elbow macaroni pasta
2 tablespoons truffle butter
2 tablespoons flour
1-1/2 cups whole milk
2 cups shredded cheddar cheese
2 cups shredded gruyere cheese
1/4 cup breadcrumbs
Salt and pepper
Directions:
Preheat oven to 450 degrees F.
Bring a large pot of water to a boil, add a pinch of salt and the pasta. Cook for 8 to 10 minutes, or until pasta reaches desired tenderness.
While the pasta is cooking, melt truffle butter over medium heat. Add the flour and whisk until it forms a thick paste with no lumps, about 1 minute.
Slowly whisk in the whole milk until smooth. Bring to a simmer and let cook for 3 minutes, whisking occasionally.
Slowly add the cheese and stir until completely melted.
Add salt and pepper to taste.
Once the pasta is done cooking, drain and add it to the cheese sauce. Stir to combine.
Pour the macaroni and cheese into a 1-1/2 to 2 quart casserole dish. Top with breadcrumbs and bake in the oven for 5 to 10 minutes, or until cheese is bubbly and the breadcrumbs have darkened.
Remove from the oven, let cool for 1 to 2 minutes before serving.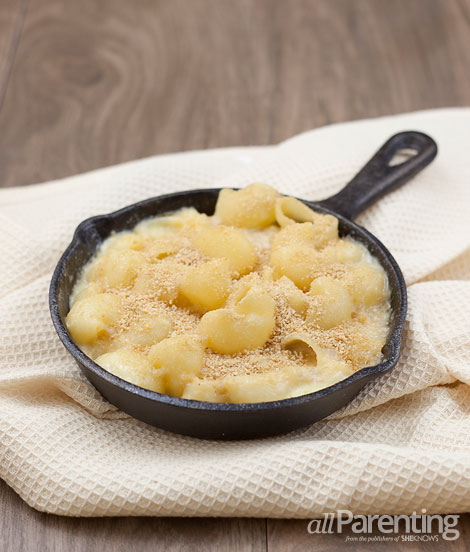 Hungry? Scroll through our delicious recipes!