Posted: May 20, 2014 6:00 AM
If you're looking for a new way to enjoy eggs, you've certainly come to the right place. Great for breakfast, lunch or dinner, this meal of poached eggs over a wilted spinach salad is sure to fill the belly and please the taste buds.
Poached eggs might sound a little scary to make, but they really aren't — and you don't need any fancy tools. Once you've mastered the art of poaching, add those eggs to this easy wilted spinach salad and you have a delicious meal for breakfast, lunch or a light dinner.
Poached eggs over a wilted spinach salad
Serves 2
Ingredients:
2 teaspoons white vinegar
2 eggs
Olive oil
2 tablespoons shallots, finely chopped
1/8 teaspoon salt
2 cups packed spinach
1 teaspoon red wine vinegar or balsamic vinegar
Fresh-cracked black pepper
2 slices toasted bread, ciabatta or pugliese are both great for this
Directions:
Fill a nonstick saucepan with 2 inches of water and white vinegar. Bring to a simmer over medium heat, between 180 to 190 degrees F. Crack the eggs into separate small prep cups or ramekins and set aside until water is ready. Using a spatula, gently scrape the bottom of the pan to remove the bubbles. Carefully set the prep cup or ramekin in the water and gently roll the egg out of the cup and into the pan. Cook for 3-1/2 to 4-1/2 minutes, or until the egg whites are cooked. Using a slotted spoon, carefully lift the eggs out of the pan and transfer to a paper towel or a clean towel to drain the water.
While the eggs are cooking, drizzle olive oil into the bottom of a small skillet and heat over medium heat. Add the shallots and salt and cook until shallots are golden brown. Add the spinach and more olive oil if needed. Cook until the greens are wilted. Add the red wine or balsamic vinegar and stir.
Divide the wilted spinach and spoon onto 2 plates. Top with poached eggs and fresh-cracked black pepper and serve with a slice of toasted bread.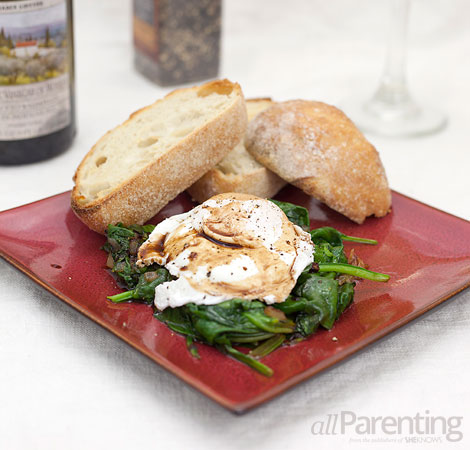 Hungry? Scroll through our delicious recipes!