Posted: May 05, 2014 6:00 AM
Pass on the bottled sauces and whip up this easy, homemade version of orange chicken. With a blend of sweet and savory flavors, this is bound to be a favorite with every member of the family.
It is hard to resist the siren call of takeout Chinese food. Chow mein noodles, beef and broccoli and the ever popular orange chicken can be irresistible. It's that chicken, fried until crispy and tossed in a sweet and salty sauce, that seems to disappear the quickest. This easy recipe will enable you to whip up a batch of orange chicken any time the craving hits.
While there are several ingredients in the sauce, do not let this scare you away. Just dump them all in a pot together, whisk and cook until the mixture is thick. That's it. This version uses less sugar (or honey, in this case) than most recipes to help avoid that cloyingly-sweet taste that haunts most orange chicken recipes.
When frying the chicken, use a candy or deep-frying thermometer to be sure that the oil reaches 375 degrees F. If the oil isn't hot enough, the chicken will take longer to cook, which could cause it to become oily rather than crispy. Deep-frying thermometers can be found at most kitchen supply stores.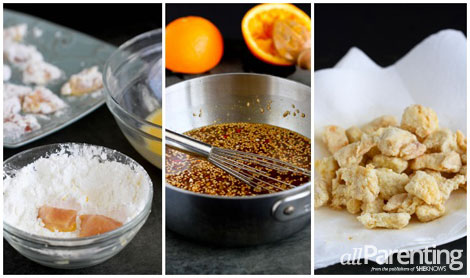 Homemade orange chicken
Serves 4
Ingredients:
The sauce:
1/2 cup freshly squeezed orange juice
1/2 cup chicken broth
1/3 cup honey or agave nectar
1/3 cup soy sauce
1/4 cup rice vinegar
2 garlic cloves, minced
1 tablespoon cornstarch
1 tablespoon orange zest
1 tablespoon minced fresh ginger
1 teaspoon toasted sesame seeds
1/4 teaspoon crushed red pepper flakes
The chicken:
1-1/4 cups canola oil
2 eggs
1 cup cornstarch
1-1/2 pounds boneless, skinless chicken breasts, cut into 1-inch pieces
Sliced green onion, if desired
Directions:
The sauce:
In a small saucepan, whisk together all of the sauce ingredients. Bring to a boil over medium heat and cook, whisking frequently, until the sauce is thickened, about 10 minutes.
The chicken:
Pour the canola oil into a large saucepan and heat until it reaches 375 degrees F.
Beat the eggs in a medium bowl. Place the cornstarch in a small bowl.
Working with a few pieces of chicken at a time, dip the chicken in the egg, letting the excess run off. Then dredge the chicken pieces in the cornstarch, pressing gently to thoroughly coat each piece.
Cook 6 to 8 pieces of chicken at a time until the chicken is crispy and cooked through, about 1 minute per side. Remove with tongs and place on a plate lined with a paper towel. Repeat with the remaining chicken pieces.
Place the cooked chicken in a large bowl, ladle some of the sauce onto the chicken and toss to coat. Use enough sauce to coat, but take care not to saturate the chicken.
Serve immediately. Garnish with green onions, if desired.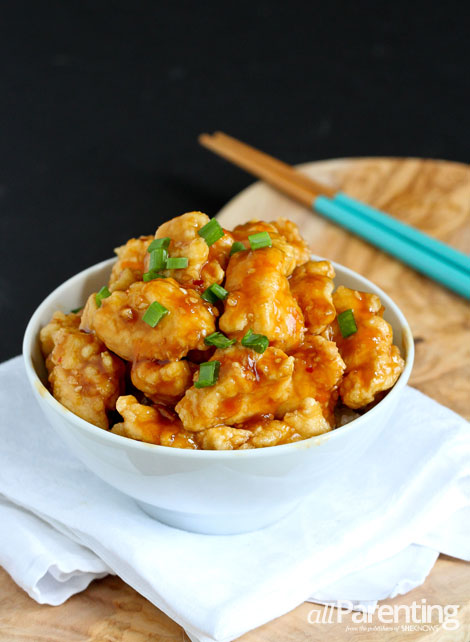 Hungry? Scroll through our delicious recipes!