Posted: May 07, 2014 9:00 AM
Treat your own mom to a beautiful brunch this Mother's Day complete with a fancy meal that won't require you to spend the rest of your special day at the kitchen sink.
Photo credit: Liliboas/ iStock/360/ Getty Images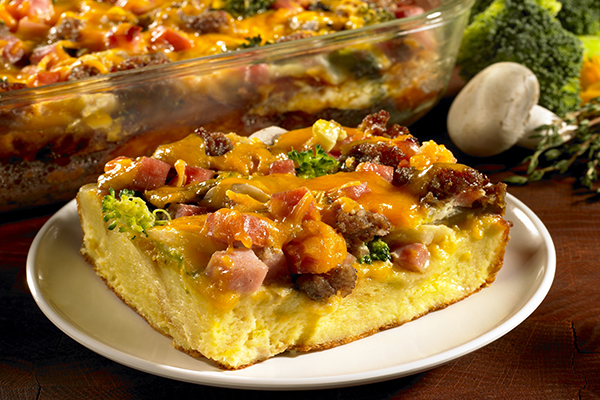 Photo credit: Nature's Own
Ham, sausage and cheese casserole
This breakfast casserole from Nature's Own, layered with plenty of hearty ingredients like cheddar cheese, broccoli, mushrooms and sausage, can be made at night and baked the next morning.
Ingredients:
12 slices Nature's Own Butterbread
3/4 pound sharp Cheddar cheese, sliced
1 (10-ounce) package frozen chopped broccoli, cooked and drained
1/2 cup sliced mushrooms
1 pound bulk pork sausage, browned
1 (8-ounce) can water chestnuts, sliced
2 cups chopped cooked ham
6 eggs
3-1/2 cups milk
2 tablespoons instant minced onion
1/2 teaspoon salt
1/4 teaspoon dry mustard
3/4 cup grated cheddar cheese
Directions:
Cut 6 slices of bread into quarters.
Place bread quarters in bottom of 13 x 9-inch baking dish.
Place cheese slices over bread.
Next layer broccoli, mushrooms, sausage, ham, water chestnuts and onion.
Top with remaining 6 slices of bread, cutting into quarters, if necessary.
In a bowl, mix eggs, milk, onion, salt and dry mustard.
Pour mixture evenly over casserole dish.
Cover and refrigerate overnight or for at least 6 hours.
Preheat oven to 325 degrees F.
Uncover dish and bake for 50 minutes.
Remove from oven and sprinkle with grated cheese.
Return to oven and bake for an additional 5 minutes or until cheese is melted and casserole is heated through.
Let stand for 10 minutes before serving.

Photo credit: Unsophisticated Cook
Easy French toast casserole
We just love a recipe that has the word 'easy' in the title. The Unsophisticated Cook blogger set out to make a French toast casserole recipe that was not too soggy yet not too dry.
Ingredients:
1 (12-count) tray King's Hawaiian® Sweet Rolls, cut into 1-inch cubes
5 egg yolks
1-1/2 cups milk
1 (14-ounce) can sweetened condensed milk
1 tablespoon pure vanilla extract
1 teaspoon ground nutmeg
1/2 teaspoon kosher salt
For the remaining ingredients and directions, click here >>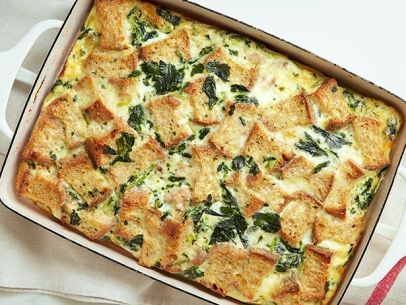 Photo credit: FoodNetwork.com
Healthy breakfast casserole
The Food Network Kitchen produced this healthy yet hearty breakfast casserole with turkey sausage, whole wheat bread and spinach for a good-for-Mom breakfast that's hearty enough to serve for brunch, too.
Ingredients:
8 ounces spicy or sweet turkey sausage links, casings removed, meat crumbled
2 scallions, sliced
6 large eggs and 6 large egg whites
1-3/4 cups 1 percent milk
Kosher salt and freshly ground black pepper
1 (9-ounce) package frozen chopped spinach, thawed and drained of excess liquid
3/4 cup shredded cheddar
1/2 cup grated Parmesan
1/2 whole wheat baguette, cut into 3/4-inch cubes (about 4 cups)
Cooking spray
Click here for complete directions >>
Photo credit: Eat, Drink & Garden
Turkey sausage and egg bake
Eat, Drink & Garden blogger Valerie Rice shows us that brunch casseroles don't have to be filled with bread. This turkey sausage and egg bake does not require bread — but you'll never miss it.
Ingredients:
6 hard-boiled eggs, thinly sliced
6 raw eggs
1 pound turkey sausage, in casings
1 bottle of beer
8 ounces fresh mozzarella, thinly sliced
1 tablespoon Dijon mustard
1/4 cup Parmesan cheese
Click here for full directions >>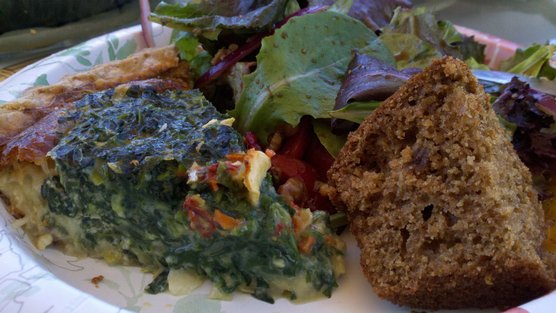 Photo Credit: The Grocery Game
French vegetable quiche
With just eight ingredients, The Grocery Game estimates the cost to make this quiche is just $6. But it looks fancy, so you don't have to tell Mom her brunch is under budget.
Ingredients:
4 eggs
1 cup grated muenster, Jack or Swiss cheese
1 (10-ounce) package frozen chopped spinach
1 packages Knorr Spring Vegetable recipe mix
1 (9-inch) frozen deep-dish pie crust
1 fresh tomato
Fresh basil, chopped (optional)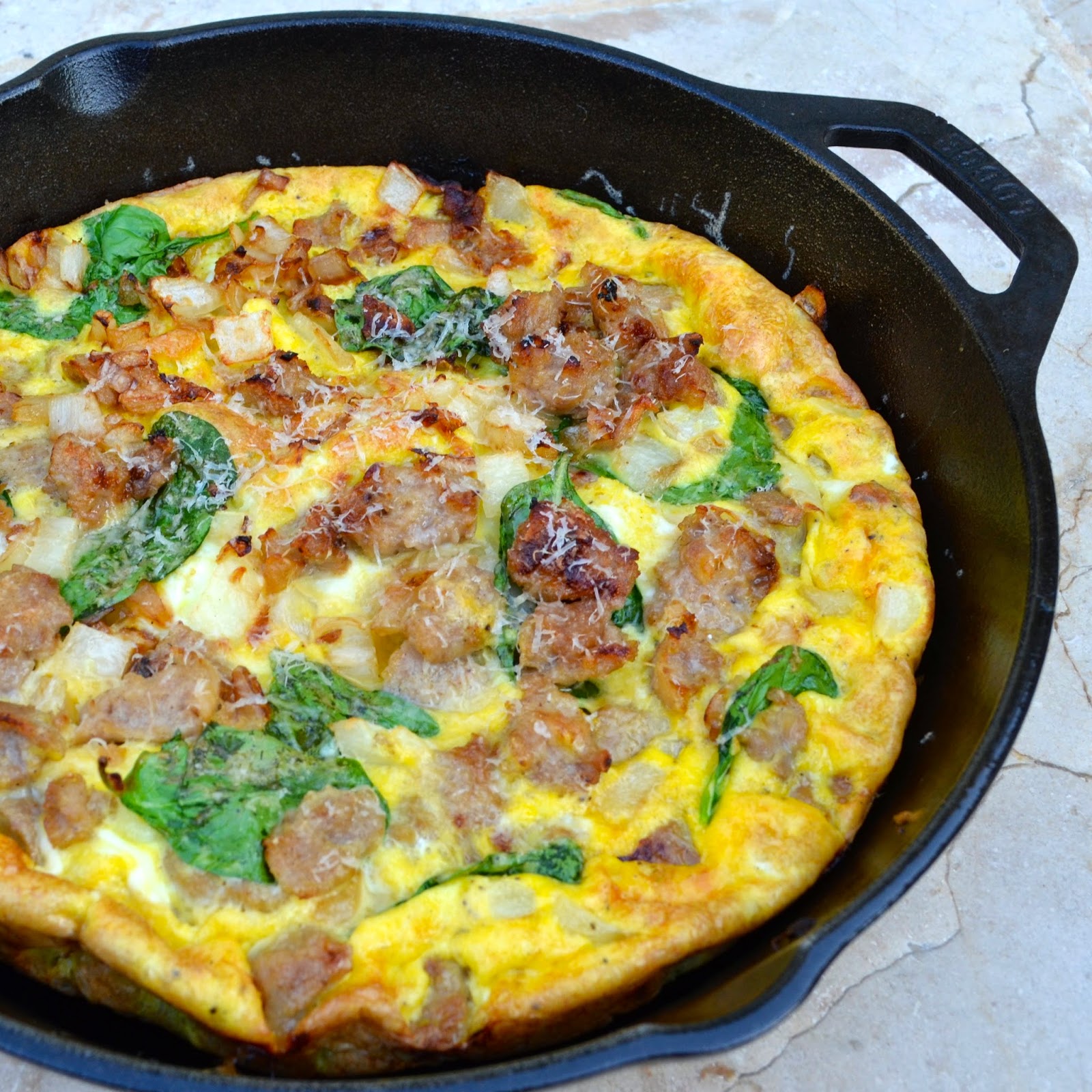 Photo credit: Alivia Jane
Frittata with sweet chicken sausage and spinach
Alivia Jane's easy frittata requires just five ingredients (plus salt and pepper), and in just a few minutes you'll have an impressive egg dish for Mom.
Ingredients:
6 ounces sweet chicken sausage, casing removed
1/2 cup yellow or white onion, diced
6 large eggs, lightly beaten (or 8 small eggs)
1 cup loosely packaged spinach leaves (enough to cover the top of the frittata)
1/2 cup fresh grated Parmesan cheese, plus extra
Salt and pepper, to taste
Click here for complete directions >>