Posted: May 16, 2014 6:00 AM
If you can't get to Melrose Place for one of Fig & Olive's famous salads, give yourself the Hollywood treatment by recreating the signature dish at home for a healthy, filling and festive meal.
I was first introduced to the signature salad at Fig & Olive when my husband surprised me with a whirlwind weekend in Los Angeles for my birthday a number of years back. The getaway was filled with Hollywood glamour and opulence, but the highlight for me by far was a long lunch Fig & Olive on Melrose Place. Known for celebrating fresh and flavorful ingredients and all the best culinary influences from the South of France, the famed restaurant's house salad is now my go-to home lunch staple. Celebrate the bounty of fig season with this gourmet meal in a bowl.

Ingredients:
1 head romaine lettuce, washed and shredded
Basket of fresh figs, any variety, quartered
Container of dried Mission figs, quartered
Handful of pitted green olives
Scallions (optional)
1 crisp apple, thinly sliced
Handful of walnuts, chopped
Aged manchego cheese, thinly sliced
Crumbled gorgonzola cheese
Good quality olive oil
Balsamic vinegar
Salt and pepper
Directions:
Combine several tablespoons of olive oil with 1 tablespoon of balsamic vinegar and whisk until combined.

Add some salt and pepper to taste.

I like to add my halved dried figs and gorgonzola to the salad dressing well before I dress my salad. I find the dried figs soften a bit and the gorgonzola adds a creamy texture to the dressing.

When you're ready to serve, toss your romaine with the dressing so the lettuce bits are evenly coated.

Then start to decorate your salad with all the goodies. Treat it like an edible work of art. You may not be dining among the Hollywood elite, but there's no reason you can't create a one-of-a kind experience for yourself.

Set your table with a bouquet of fresh rosemary (Fig & Olive is filled with the living herb) and pour yourself a glass of rosé. It's the perfect pairing for an indulgently French lunch.

Bon appétit.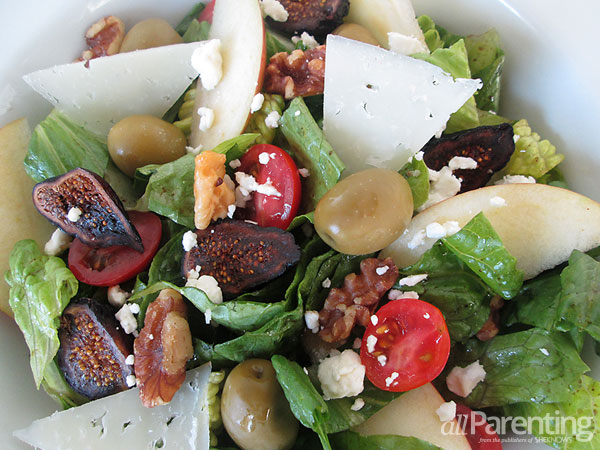 Hungry? Scroll through our delicious recipes!