Posted: May 12, 2014 6:00 AM
Hearty but light soba noodles are tossed with fresh stir-fried vegetables and a soy sauce dressing. Serve them as-is, over a bed of spinach or wrapped in lettuce leaves.
On busy weeknights, it's an act of self-preservation to have a lineup of quick and easy recipes that you can put on the table in under 30 minutes. Soba noodles take only five minutes to cook, and can be tossed with a variety of meats and vegetables to make a complete meal.
This recipes relies on mushrooms, zucchini and red bell peppers for great flavor and a whole host of vitamins. To bump up the protein, add cooked edamame (soybeans) or stir-fried tofu. If you prefer a non-vegetarian meal, stir-fry some chicken, beef or pork to add to the mixture.
Both mirin (sweet rice wine), which adds a subtle but distinctive taste to the soy sauce-based sauce, and soba noodles can be found in the international aisle of most supermarkets.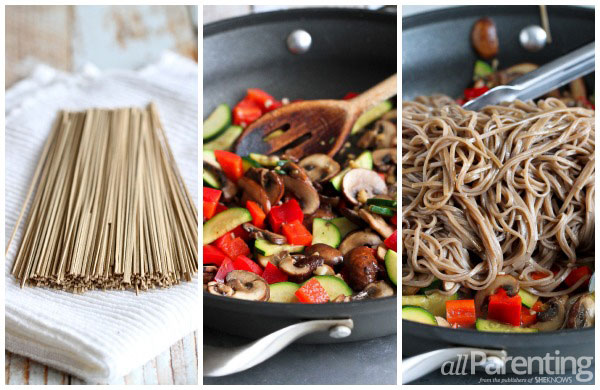 Vegetable soba noodle salad
Serves 3 to 4
Ingredients:
The dressing:
3 tablespoons rice vinegar
3 tablespoons soy sauce
1 tablespoon mirin (sweet rice wine)
1 tablespoon sesame oil
1 teaspoon honey or agave nectar
The noodles:
8 ounces soba noodles (2 bundles)
2 teaspoons canola oil
1 tablespoon minced fresh ginger
2 garlic cloves, minced
8 ounces crimini mushrooms, sliced
1/2 medium zucchini, cut into thin half circles
1/2 red bell pepper, cut into 3/4-inch pieces
Directions:
The dressing:
In a medium bowl, whisk together the rice vinegar, soy sauce, mirin, sesame oil and honey or agave nectar.
The noodles:
Cook the soba noodles according to package directions. Drain and rinse with cold water.
In a large nonstick skillet, heat the canola oil. Add the ginger and garlic and cook, stirring frequently, about 2 minutes.
Add the mushrooms and cook until just starting to soften, about 2 minutes. Add the zucchini and cook for 1 minute. Finally, add the red bell pepper and cook for 1 additional minute.
Transfer the noodles to the skillet with the vegetables and toss with the dressing. Cook until heated through, about 1 minute.
Serve the noodles on their own, over spinach leaves or chilled in lettuce wraps.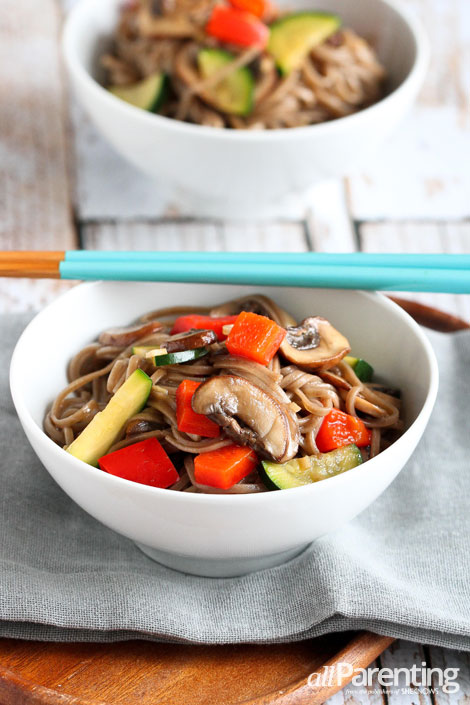 Hungry? Scroll through our delicious recipes!