Posted: May 19, 2014 6:00 AM
If you want an impressive brunch dish that is ready in half the time of a traditional quiche, this crustless version is it. It's studded with mushrooms and sun-dried tomatoes for a beautiful presentation.
There is something to be said for dishes that can be made at the last minute and are perfect for either breakfast or dinner. That is exactly what you get with a crustless quiche. Eliminate the finicky crust and you are left with a short to-do list — cooking some mushrooms and transferring them to a pie dish, along with eggs, cheese and sun-dried tomatoes. Bake and serve less than 45 minutes later.
This recipe is very versatile, so let the ingredients in your fridge dictate the flavors. Are you out of mushrooms, but have a jar of roasted red peppers in your fridge? That's no problem. Do you prefer goat cheese or cheddar cheese to Parmesan? Go ahead and make a substitution.
If you have leftovers, save them for an easy breakfast the next day. Just reheat a slice in the microwave for a few seconds.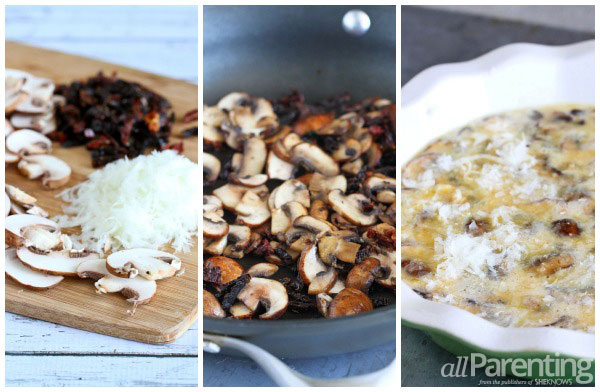 Mushroom & sun-dried tomato crustless quiche
Serves 6
Ingredients:
5 large eggs
5 egg whites
1/3 cup water
1/2 teaspoon salt
1/4 teaspoon ground pepper
1 teaspoon olive oil
6 ounces crimini (Baby Bella) mushrooms, thinly sliced
1/4 cup chopped sun-dried tomatoes
1/3 cup grated Parmesan cheese
Directions:
Preheat the oven to 375 degrees F. Coat a 9-inch pie dish with cooking spray.
In a large bowl, whisk together the eggs, water, salt and pepper. Pour the egg mixture into the prepared pie dish.
Heat the olive oil in a large nonstick skillet set over medium heat. Cook the mushrooms, stirring occasionally, until the mushrooms are just starting to brown, about 5 minutes. Stir in the sun-dried tomatoes.
Sprinkle the mushroom mixture and Parmesan cheese evenly over the eggs.
Bake until the egg is set in the center and starting to brown, 30 to 35 minutes.
Let the quiche cool for about 10 minutes, garnish with cilantro and cut into 6 wedges.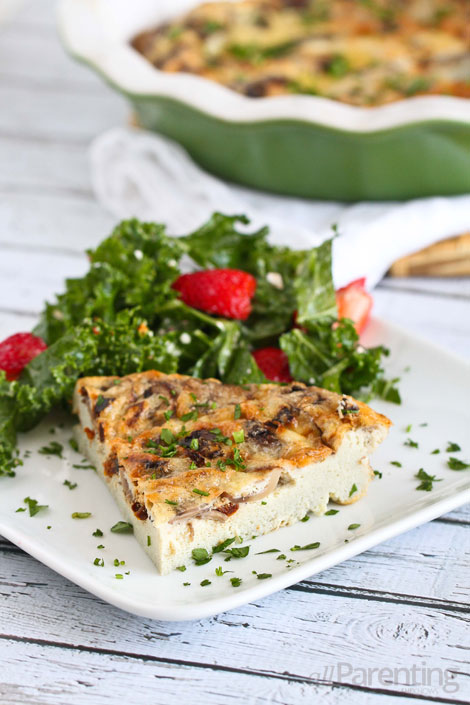 Hungry? Scroll through our delicious recipes!