Posted: Jun 04, 2014 6:00 AM
Skip the complicated dinner tonight and instead keep the cooking easy with this vegetable stir-fry with rice noodles. Cooked in one pan and served in a bowl, it is a simple, no-fuss dinner that everyone will enjoy.
Want an easy way to eat more vegetables? Add them to a stir-fry with noodles. In this stir-fried vegetable dish, you'll get carrots, broccoli, bok choy and more all in one bowl. Add in a little sauce along with your favorite toppings and you (and the kids) will forget your dinner is loaded with healthy foods.
Stir-fried vegetables with rice noodles
Serves 4
Ingredients:
4 ounces brown rice noodles (should equal 1/2 package)
1/4 cup shallots, chopped
2 cloves garlic, minced
2 to 3 carrots, peeled and sliced
1 red bell pepper, top removed, deseeded and sliced
1 cup broccoli
1 cup sugar snap peas, cut in half
4 baby bok choys, bottom inch removed
1/3 cup soy sauce
2 tablespoons honey
2 tablespoons creamy peanut butter
1 tablespoon rice wine vinegar
1-1/2 teaspoons ground ginger
2 tablespoons peanut oil
Directions:
Before cutting the vegetables, place the brown rice noodles in a large bowl and fill with hot water to soften.
Cut all ingredients as directed and place near your cooking station. The shallots and garlic can be placed together in a small prep cup and the red bell pepper, broccoli and sugar snap peas can be combined in a small bowl as they will be added to the mix at the same time. The rest of the vegetables should be kept separate.
Once the vegetables have been cut up, check the rice noodles. If they are soft, drain them using a mesh strainer. If they are not soft, let them sit for a few more minutes. Once they are soft, drain and leave in the mesh strainer until ready to use.
In a small bowl, combine soy sauce, honey, peanut butter, rice wine vinegar and ground ginger for your stir-fry sauce.
Heat a 12- to 14-inch wok over high heat. If you don't have a wok, use a large skillet. Once the wok is hot, add the peanut oil and carefully swirl it around to coat all sides of the wok.
Add the shallots and garlic to the wok and stir. Cook until fragrant, about 30 seconds.
Add the carrots and stir-fry until the carrots soften slightly, about 2 minutes.
Add the red bell pepper, broccoli and sugar snap peas and stir-fry until the peppers soften, about 2 minutes.
Add the baby bok choy and stir-fry until the greens start to wilt, about 2 minutes.
Add the brown rice noodles and the stir-fry sauce. For the sauce, pour it around and down the sides of the wok instead of directly in the center. Using 2 utensils, lift and turn the noodles in the wok to combine the vegetables and sauce. Stir-fry for 3 to 5 minutes, or until the ingredients are thoroughly combined and the noodles are cooked.
Adjust sauce ingredients to taste and stir again if needed.
Serve immediately in bowls and top with Thai basil, chili oil, Sriracha or other ingredients of your choice.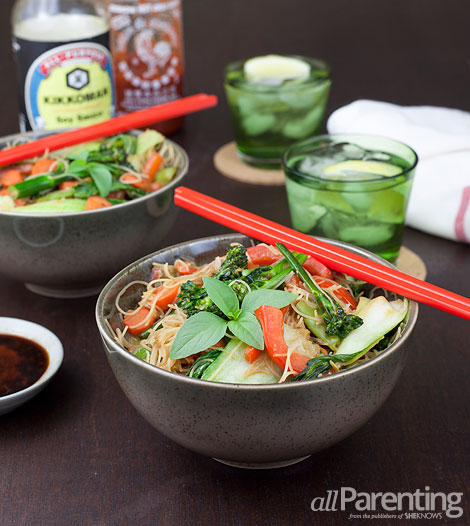 Hungry? Scroll through our delicious recipes!