Posted: Jun 03, 2014 6:00 AM
Craving something sweet and chocolaty for dessert tonight? You'd better get that oven turned on and make a batch of these chocolate pecan brownies drizzled with salted caramel sauce. Rich and gooey, it's unlikely they'll last long in the house. Don't say we didn't warn you!
When the urge for a rich chocolate dessert strikes, look no further than these chocolate pecan brownies. To up the wow factor, drizzle them with a homemade salted caramel sauce. You'll be in dessert heaven. Trust us on this one.
Chocolate pecan brownies
Makes 9 to 12
Ingredients:
1/2 cup (1 stick) unsalted butter
3 ounces unsweetened dark chocolate baking bar, chopped into small pieces
1 cup sugar
2 eggs
1/4 teaspoon flaky sea salt or fleur de sel
1 teaspoon vanilla
2/3 cup flour
1/2 cup chopped pecans
Directions:
Preheat oven to 350 degrees F and grease an 8 x 8-inch baking pan.
Place a medium heat proof bowl over gently boiling water and add butter and chopped chocolate pieces to the bowl. Stir to combine until both the butter and chocolate are completely melted. Carefully remove the bowl from heat.
Whisk in the sugar and then the eggs, 1 at a time. Next, whisk in the vanilla and the salt.
Stir in the flour with a spoon until just combined, scraping the sides of the bowl as needed.
Add the pecans and again stir to combine.
Pour the brownie mixture into the greased 8 x 8-inch pan and use a spatula to smooth out the top before baking.
Bake in the oven for 25 to 30 minutes, or until a cake tester inserted in the middle comes out clean.
Let cool before cutting into pieces and serving.
Salted caramel sauce
Makes about 2 cups
Ingredients:
2 cups sugar
12 tablespoons unsalted butter, room temperature
1 cup heavy cream, room temperature
1 tablespoon flaky sea salt or fleur de sel
Directions:
Before starting the caramel, cut butter into 1/2-inch pieces and measure out the heavy cream and sea salt.
Add the sugar to a medium saucepan and heat over medium-high heat. When the sugar starts to melt, start whisking it. Continue whisking the sugar as it heats until it is completely melted. It will clump during this stage which is OK, just keep whisking. Once the sugar has melted, stop whisking and let it heat to a temperature of 350 degrees F.
Carefully add the butter and whisk until it is melted. The butter will foam in the pan so be careful and keep stirring, switching to a spoon if needed.
Remove the pan from the heat and slowly pour in the heavy cream. Whisk until the cream is fully mixed in and the caramel is smooth. Add the salt and stir.
Let the caramel sit for 10 to 15 minutes in the pan to cool. Pour into a large jar and continue to cool to room temperature. Store the salted caramel sauce in the refrigerator until ready to use for drizzling on your chocolate pecan brownies. It's also great on bourbon butter pecan ice cream or served with buttermilk beignets.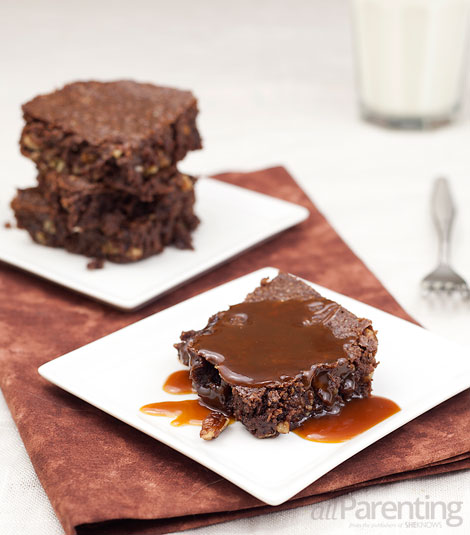 Cure your sweet tooth with endless dessert ideas!