Posted: May 26, 2014 6:00 AM
It's time to fire up the grill, and these chicken and vegetable kabobs are just the way to get the season started. Marinate and brush with a fresh lemon and herb vinaigrette.
The grilling season is officially underway, and it is time to pull out those recipes that are crowd-pleasers for adults and kids alike. Lemon and rosemary make a wonderful pairing for both sweet and savory dishes, and this marinade is no exception. While the chicken can soak up plenty of flavor from the marinade in as little as 30 minutes, it tastes even better when left to marinate for a few hours.
If you are not a fan of zucchini or bell peppers, feel free to substitute with other vegetables, such as mushrooms, onions or tomatoes. Either wooden or metal skewers will work for these kabobs. If using wooden skewers, be sure to soak them in hot water for at least an hour before assembling the kabobs. This will prevent the skewers from catching fire on the grill.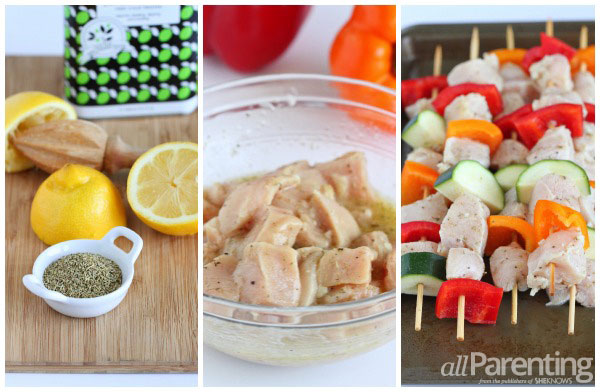 Grilled chicken & vegetable kabobs
Serves 4
Ingredients:
1/3 cup fresh lemon juice
1/4 cup canola oil
1 tablespoon honey or agave nectar
1 teaspoon crushed dried rosemary
2 cloves garlic, minced
1/2 teaspoon salt
1/2 teaspoon ground pepper
1 pound boneless, skinless chicken breasts, cut into 1-inch pieces
1 red bell pepper, cut into 1-inch pieces
1 small zucchini, cut into 1-inch pieces
Directions:
In a medium bowl, whisk together the lemon juice, canola oil, honey, rosemary garlic, salt and pepper. Transfer 1/4 cup of the marinade to a separate bowl and set aside.
Place the chicken in the medium bowl of marinade, toss to coat and cover and refrigerate for at least 2 hours and up to 8 hours.
One hour before the chicken is done marinating, place 8 wooden skewers in a large dish filled with hot water. Alternatively, use metal skewers.
Preheat the grill to medium and lightly oil the grates.
Thread the vegetables and chicken onto the skewers, alternating them.
Cook the kabobs, turning and basting with the reserved marinade frequently, until the chicken is cooked through, about 10 minutes. Serve.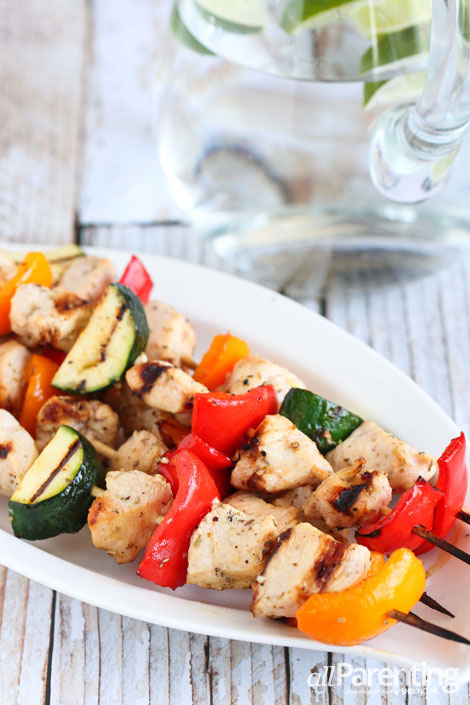 Hungry? Scroll through our delicious recipes!